As you're searching for your proper pedal-board setup (or generally, your sound setup), you might feel super excited by the vast possibilities of multi-effects processors, and then suddenly feel hesitant to buy one.
Why is that? Mostly because, though multi-effects processors pack thousands of dollars worth of pedals into one compact kit, the modelled sounds — being digitally reproduced — haven't historically sounded quite the same as a real chain of analog fuzz faces, wahs, delays, and the like. In the 90s and 2000s, multi-effects processors were sort of like watching Citizen Kane in 240p, rather than on actual film.
However, you've probably heard of Moore's Law, talking about how electronics are able to get smaller and smaller, packing more of a digital punch every few months. Which no doubt is why computers now are so much faster than the 90s. Fortunately, that same digital benefit has been bestowed upon multi-effects processors; the modelled sounds continously get closer and closer to their analog counterparts.
Nowadays, though pedal purists still have great reason to spurn multi-effects processors, those reasons are diminishing with each year.
If you scroll further below, you'll see a bunch of recommendations for multi-effects processors which are helping to redefine these machines as actually decent sounding all-in-one rigs, but first here are some different reasons why multi-effects processors might be a great choice for you.
Early Learning of Pedals
Particularly if you're newer to the game of pedal alchemy, then multi-effects processors can be a great university of sounds in and of themselves. You can learn the specific delays timings perfect for your new riff, combined with the proper chorus effects, and touch of fuzz to bring it to life. Next, you can emulate certain heads and combos so that your song is quite dialed in.
The great beauty of this system is that, from there, you can have a roadmap for the analog gear you'd like to eventually own, since you've got a great sense of what you like and don't like.
Travel
Another great reason to choose a multi-effects processor is for travel. If you're doing a tour with your friends around the area, you might not want to bring your rig of $2,000 worth of pedals, knowing they could potentially get damaged, lost, or even stolen. Plus, not all of us have an army of roadies to get everything setup by showtime. Because of those factors, having a simple all-in-one multi-effects pedal can be a solution that keeps your blood pressure low on the road.
Budget
Of course, perhaps the clearest reason to choose a multi-effects pedal is because, with one pedal, you get multiple effects! For example, with the Boss ME-80, you practically get all the famous sounds they've created with their analog pedals. If you were to buy the actual analog pedals, you'd be out thousands of dollars. These multi-effect processors are incredibly economical. In case you're open to swapping a bit of sound quality for extreme affordability, while getting tons of sonic options, then multi-effects pedals may be a good choice for you.
Backup or Filler Sounds
One other reason that comes to mind to include a multi-effects processor in your rig is that it's a great backup, or filler, for your analog pedals. In case something happens to almost any of your analog pedals, you can rest assured that — at least for the time being — your multi-effects pedal can step in and fill the sonic gaps. Or, if you're waiting to add a ring modulator to your setup, in the meantime, your multi-effects pedal can fill in that role as you save up those funds.
Alright! Now, here are some recommendations for multi-effects processors. As always, these suggestions are just meant to get you started in knowing what to look for, as you make your purchase.
Note: After the shortlist of a few recommendations which come to mind, keep scrolling to read about what's usually included in multi-effects pedals. Hope you find these recommendations helpful!
BOSS has long been one of the top manufacturers of legendary individual effects pedals. With the ME-80 they have packed a huge amount of those – along with other great features – into one streamlined unit designed with the gigging guitarist in mind.
The ME-80 sports an easy to use, knob based interface, which means that there are no labor intensive scrolling sessions.
No slogging through endless effects every time you want to change things up.
Instead, everything is right there at a glance and you can dial in your custom sound with a few simple twists. The functions are gathered into eight logical categories, which can be used simultaneously to create your perfect tone blends.
The user interface is driven exclusively by the use of knobs instead of screens and multiple menus to scroll through. This mimics how traditional effects pedals are adjusted. You may find that this approach makes it much easier to get the tones you need.
Complex multi-effect arrangements can be programmed into the pedal and recalled instantly from this pedal's stompbox style on/off setup.
The specialty COSM amp modeling comes courtesy of the ME-80's rather costlier cousin, the GT-100. Also included is a phrase loop station that records up to 38 seconds of groovy loopin'.
One of the unique things that I really like about this choice is that the switches are lined up smartly in two rows. What's more, each switch is placed at a different height level. Both of these clever features make it easier to discern between functions that clumsy feet might easily mix up or accidentally bump otherwise.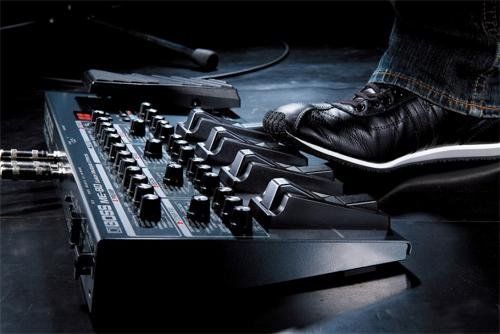 Another truly cool feature on this model is the freeze setting, which you can activate by pressing down on the expression pedal to sustain (or "freeze") a chord. You simply need to pull back on the expression pedal to release the chord again. Did I already call this cool? Because it's worth repeating: this feature is cool.
(I'll let you ruminate on whether or not that freeze/cool pun was intended.)
The user-friendly software is included free and can be used to edit and program your own sounds or to download brand new ones from the Internet. In fact, the database of unique patches available for ME-80 owners to download online is HUGE, including a fairly extensive library of celebrities' personal, customized effects.
Also noteworthy is the inclusion of popular effects (like, say, chorus or reverb) placed at several different intervals so you can change up your sound in dozens of new ways. It's like a sound genie.
Wish you could run a few different choruses at the same time? Poof! Done. Want to hear a chorus before a flanger…and THEN want to hear a flanger before a chorus after some distortion? Your wish is your ME-80's command.
Amp modeling is included with support from BOSS's proprietary COSM modeling architecture. COSM (Composite Object Sound Modeling) has been the backbone for many BOSS and Roland products since the mid-'90s. Don't let the age fool you though – COSM has been consistently updated as technology evolves to give realistic and believable amp tones.
The ME-80 suffers from some of the same issues as other digital modelers in that the distortion effects may not be to your liking. You might find that you will have to take some time to play with the parameters to get some usable dirt tones. One cool effect that comes standard is the Tera Echo which is an excellent representation of the TE-2 Pedal. The Aux input on the back also makes it handy for mixing in recordings.
The ME-80 has seven footswitches that can be configured either for complete patch changes for each switch or for turning off and on individual effects within one particular patch.
Additional features include a built-in expression pedal (great for wah and volume swell effects) and a looper that has 38-second recording capacity. Easy on the pocketbook and full of great tones and features, the BOSS ME-80 has definitely earned its place on our list of the best Guitar multi-effects pedals for 2019, even though it isn't one of the most expensive.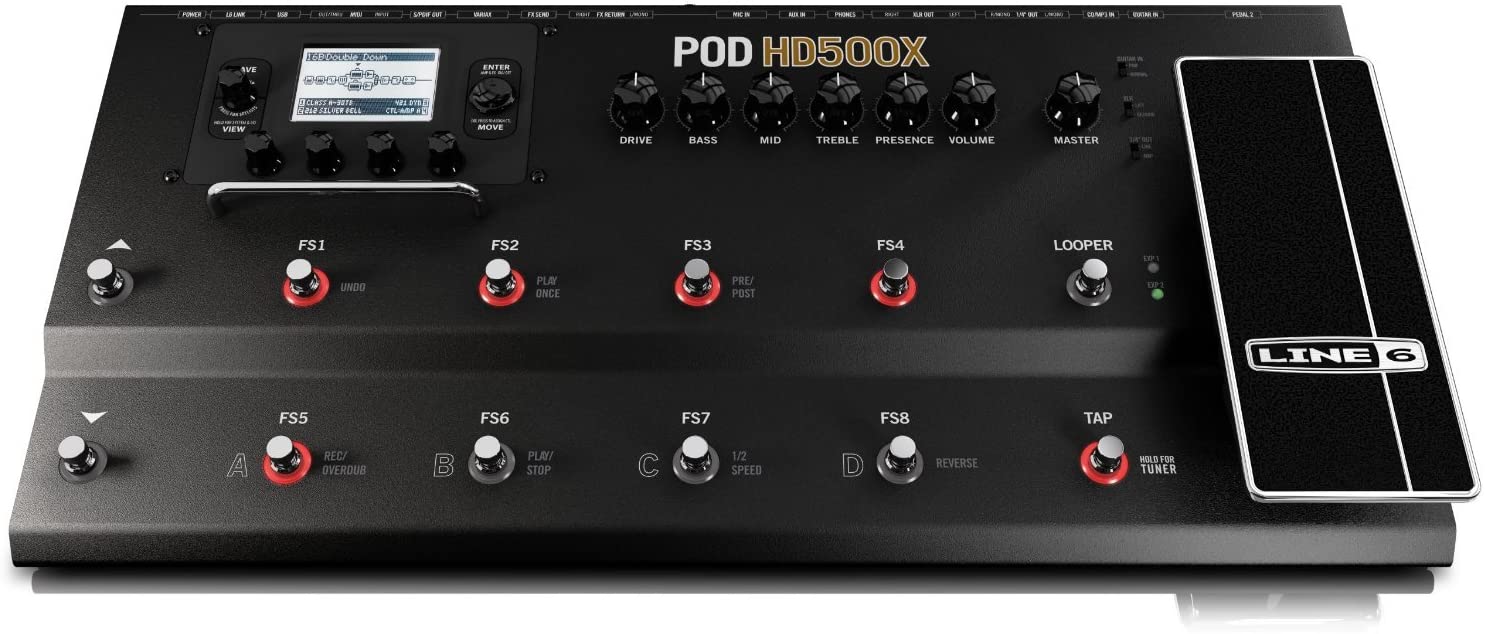 First of all, friend, let me say that in the world of guitar multi-effects pedals, two names are arguably regarded as the top contenders duking it out: The HD500X by Line 6 and the GT-100 by Boss. There are, of course, unique strengths and drawbacks to each, but I think the title needs to go to Line 6.
For starters, its construction is awesome. This model sports a durable metal chassis, pedal, and switches. It has a can't-miss backlit LCD display. Dual inputs mean that you can run two simultaneous streams. You can take advantage of the loop station to run up to a 45 second loop.
Furthermore, it's magnificently versatile. The HD500X comes with a staggering 256 presets already programmed and at the ready with an additional 512 presets available for you to program with your own customized effects. The cabinet simulator and amp tones are definitely ahead of the pack. The amp modeling in particular is stellar, with 25 guitar amps and even a bass amp to toy around with.
And I would be remiss if I failed to mention that you can use up to eight different selections simultaneously, giving you more than enough room to flex your creativity onstage or at home.
There's a significant online community to be found, which means you have tons of pedal sages on standby, ready to answer any questions or provide real-life tips and tweaks. You can check out the Line 6 message board to find expert information and honest opinions for any issue you're likely to encounter.
Effects can be programmed completely from your computer. With a superior selection, one can find hundreds of delicious patches are available to download online.
It's true that you'll occasionally run into the odd user-created patch that, while designed to be used with this pedal in particular, is incompatible with the HD500X.
Fortunately, the technically endowed guitar fairies have smiled and bequeathed unto us a few different software options that can convert incompatible patches to the correct file type, and they're all just a Google search away. (Thank you, guitar fairies.)
And speaking of software, let's talk editing for a moment. Guitar players differ here. Some feel like this pedal's included editing software is clumsy or dated or that there is a learning curve that makes experimenting with sounds less than efficient. Many (I would say most), however, greatly prefer the editing software to that of its competitors (like, say, the GT-100).
It's comparatively easy to hit the ground running with the HD500X, but becoming a seasoned pro would certainly take more patience and effort.
There are a couple other drawbacks to this model that send some musicians to Team GT-100. While it obviously has little bearing on the actual sound, the display screen is admittedly a little dated. The reason I say "little bearing" and not "no bearing" is because the screen design does affect interaction with the tuner, which could indirectly play a role in the end result.
Some musicians have also cited a gap of silence when changing patches as a reason they prefer the Boss. It certainly requires some getting used to.
Overall, however, the HD500X has a reputation for beautiful sound, a practically flawless harmonizer, and a deep and wide selection of versatile tones and effects from which to choose. It's also super light and easily portable, making it ideal for roadie free professionals who need to travel lean.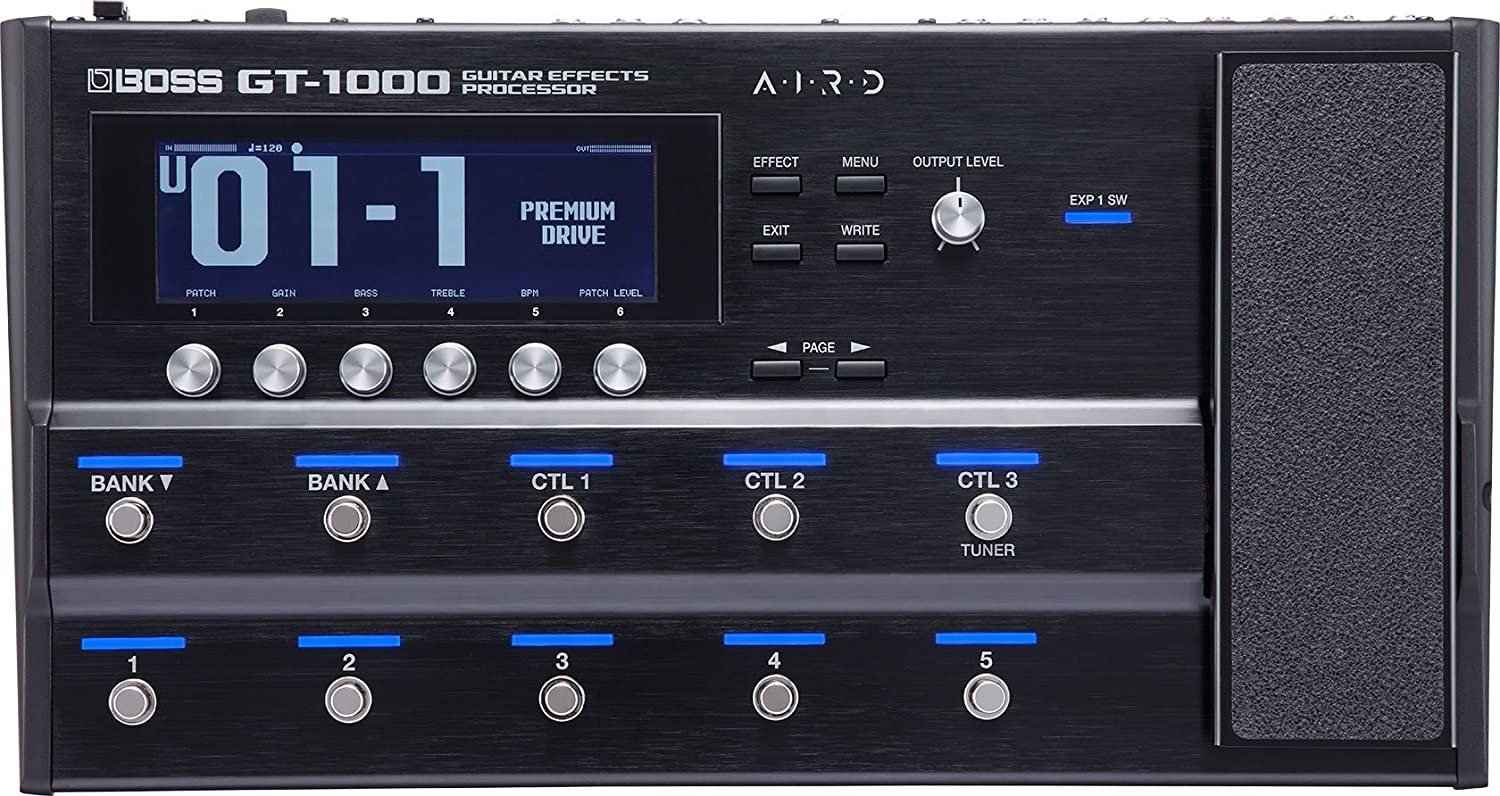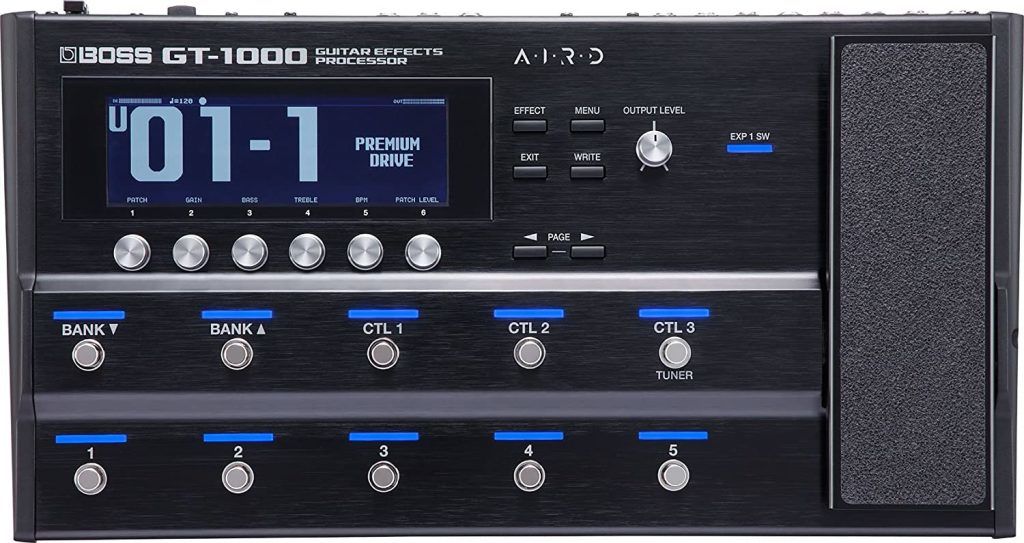 BOSS has taken their foray into the multi-effects pedal space up more than a few notches with the GT-1000. Other BOSS products may be similar but the GT-1000 was intended to be the next generation solution to any guitarist's needs, wants, and desires.
The COSM architecture used in other BOSS products for amp modeling, while a good backbone, is replaced with the new Augmented Impulse Response Dynamics (AIRD) technology. This upgraded platform was designed to blur the lines between true analog tube amp sounds and current digital technology, resulting in life-like tumb amp tones that should satisfy even the most demanding tone connoisseur.
Of course, it wouldn't be a BOSS product if it wasn't loaded with a multitude of BOSS effects and not just the typical ones that you would expect. There are also numerous specialty effects that are can't be found in the BOSS individual pedal format. Adding to the flexibility of the effect are two effects loops as well.
One particularly innovative feature of the GT-1000 is its Bluetooth connectivity capability. You can use the BOSS Tone app (available for IOS or Android) for easy patch changes on the fly. It is also set up to be a great recording tool with built-in MIDI support and USB port to connect to the BOSS Tone Studio desktop application.
Products at this level tend to be a bit overwhelming as far as the user interface is concerned, simply because there are so many features. This is somewhat true with the GT-1000. While the tones are great, you may find the overall UI to be confusing, and the manual is not written in enough detail to help you find all of the little details needed to do what you want.
BOSS has a wide range of products catering to guitarists of all levels. With all of the advanced technology and features, the high-end GT-1000 lands near the top of our list.
4. Boss GT-100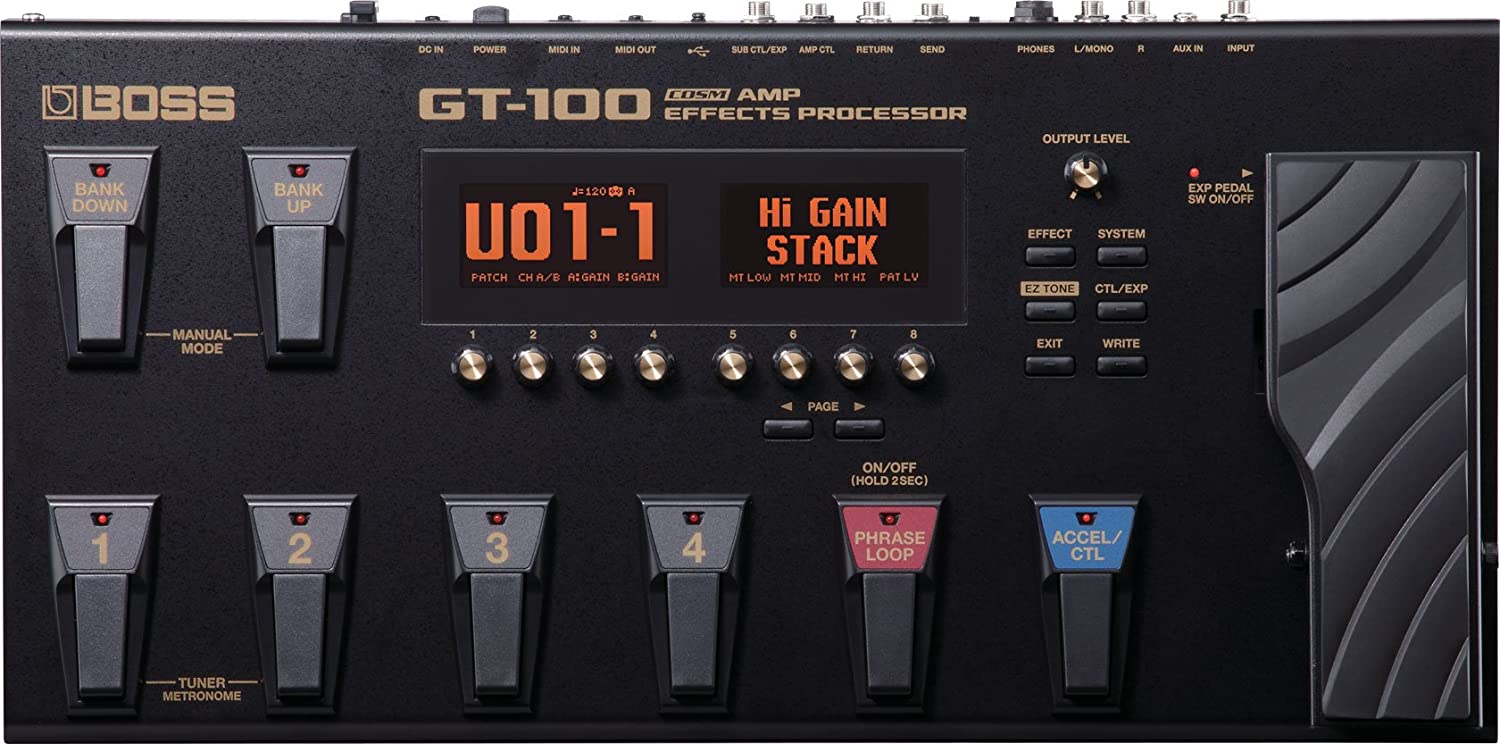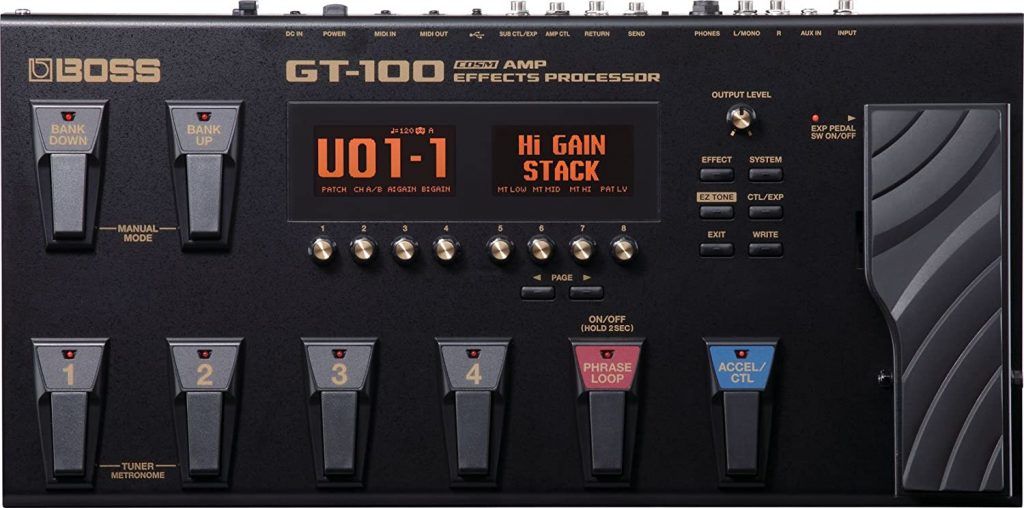 Running a very close second to the GT-1000 is the GT-100.
The sound is comparable to its competitor, providing warm lows and clear, ringing highs.
There can be a bit of a buzzy quality when using the distortion, but the clean channels are crisp and chiming, especially when using it to process effects in tandem with a real amp, which I would say is the GT-100's true strong suit. 2-cable and 4-cable methods both yield a noticeable difference.
The dual digital screen interface makes it easier to stay on top of everything that's happening with your music.
In fact, many insist that this pedal boasts the best screen out there among similar models, and I would say it definitely surpasses the Line 6 for easy visibility when it's all the way down there on the floor.
Also passing its competitors is the GT-100's two pedal stomp tuner, which is easy and accurate. You can create your own scales and intervals, which is a feature decidedly absent from other models, including the HD500X.
Also, the "silence gap" mentioned in the Line 6 review above is basically nonexistent here, with seamless transitions from patch to patch.
While there are a lot of advantages to the GT-100, there are a few drawbacks, too. For instance, the software is dated.
This contributes to what many consider to be a pretty steep learning curve. The former online community that existed for troubleshooting and the like was hacked and hasn't been the same since.
You can certainly still find the support you'd need, but it may take more digging. Other issues include a lackluster harmonizer and delays that get pitchy when you use the tap tempo.
Unlike its challenger, this fella doesn't come with any particularly exciting editing software, but there are a few different compatible software available for purchase online. (I've heard rumor there are some free ones out there, too.)
And, of course, some musicians feel like this pedal can have a negative effect on interaction with their instruments.
Hang-ups aside, it's a fantastic piece of equipment. I love the super simple toggle between manual mode and bank mode.
Noteworthy, too, is that it boasts what is arguably the easiest access to stompbox mode and some of the best amp modeling among its peers, including an extensive list of hard to find vintage amps (the Marshall 1959 bears a particularly uncanny resemblance to its predecessor, but they're all worth trying out). It's definitely a market frontrunner for a reason.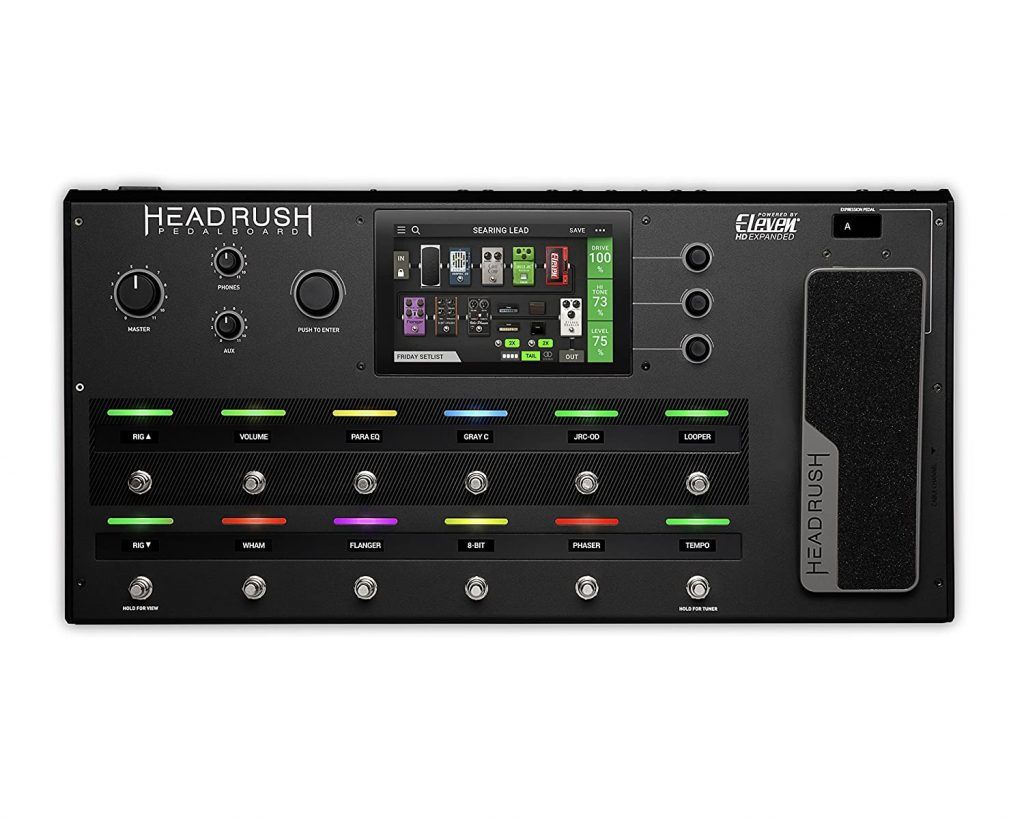 The HeadRush Pedalboard is geared towards the professional guitarist with feature sets that get it into the higher range of our list, along with the Line 6 Helix and the Fractal AX8.
Complicated user interfaces tend to be a primary concern across most multi-effects pedals, but HeadRush tackled this problem head-on Getting the tones you want is incredibly easy thanks to a large 7" color touch capable display. You can simply drag and drop effects and models to quickly and intuitively create on the spot with over 100 amp, cabinet, effects, and microphone models.
The HeadRush Pedalboard was designed to be your go-to pedal unit for heavy gigging. With sturdy steel construction, bright LED's around each footswitch, and the assignable scribble strips you'll find it hard to get lost in the dark of a crowded stage.
Some styles of music rely heavily on ambient delays and reverb effects, and one historic problem with multi-fx units is that a delay signal trail can get turned off with switching patches. Not so here! With Gapless Preset Switching your delays and reverbs can go on for as long as you want them to, even if you change to a completely different sound.
A 20-second looper adds functionality to the "one man band" artists, and the XLR outputs let you plug directly into any PA. No more lugging that 3,000-pound tube amp up three flights of stairs at 4:00 am after a long night of rockin' the house!
There may be a few downsides to consider, though. There isn't any sort of desktop editing software, so the onboard editing interface is the only option you have. You may also find that the overall sound quality may not live up to some of the higher-end competitor's models.
For a quick and easy gigging multi-effects solution without the ultra-extreme level of options that some other professional level units have, the HeadRush Pedalboard may be the right tool for your job.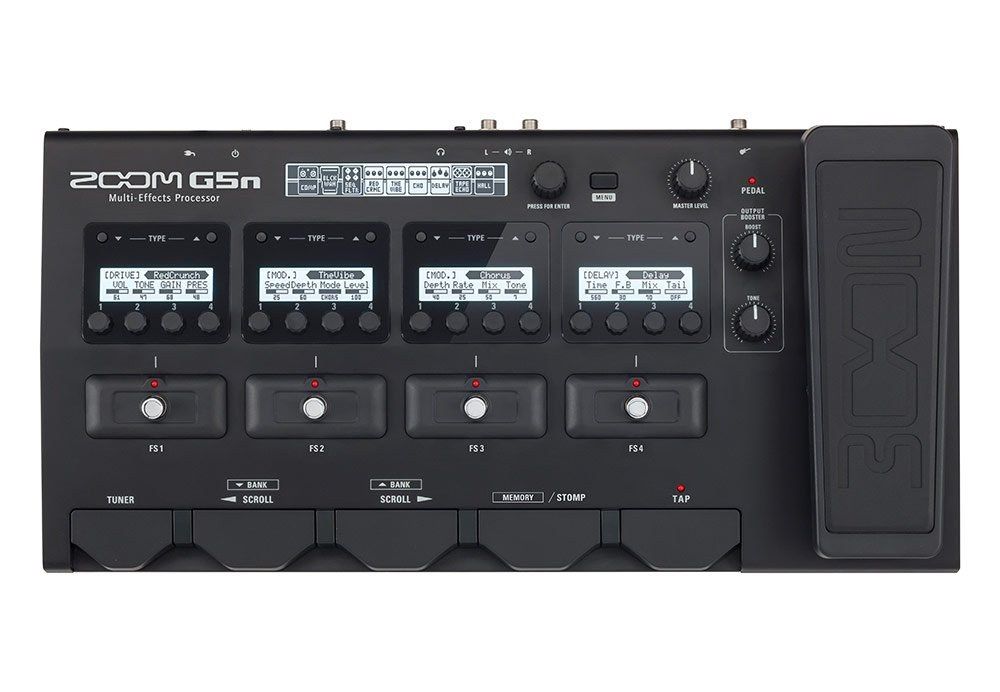 As another runner-up, here's another industry favorite: the Zoom G5.
A brightly lit, four screen digital LCD display offers a lot of information at a glance, offering independent control of each screen at any time the mood strikes you.
The interface is simple, even elegant, with an intuitive layout. The vast library of 123 virtual stompboxes and 297 built-in patches is way, way more than anyone really needs and can keep any musician busy exploring and tinkering for a long time.
Unfortunately, scrolling through all that wonderment could be part of what keeps you occupied for a long time. You have to scroll through every single option in the banks to select the one you're after since they're not categorized or anything.
The screens, while informative and cool, don't manage to show everything that's going on at once. You have to scroll through them some more to get a current status on all nine of your available effect slots. Also, the screens are a bit on the small side. As in, you might need to squint a little and it can be hard to see while standing.
What really sets the G5 apart is the 12AX7 tube booster, which provides up to 16dB of amp overdrive. It is really something special. Use it to add luxurious warmth or sparkling brightness to your tone with the push of a button.
The included loop station can be a little tricky to operate, requiring holding down a couple of switches simultaneously to access this feature. You also can't use it while changing patches, so that's another thing to keep in mind.
Musicians love this model for the sound quality. Listening to the output, you can hear chimey, bright tones, with noteworthy brilliance on the clean channels. The sounds seem more luminous than other contenders in its category, including the VOX StompLab IIG (which is another top pick I'll discuss in greater detail below).
One thing to keep in mind is that the included owner's manual is surprisingly slim and doesn't cover all that can be explored with this model. I would definitely encourage you to do a little intrepid experimentation of your own to discover all it has to offer.
In addition to the aforementioned looper, the G5 comes outfitted with a built in drum machine and easy to use tuner, making it ideal for both practice at home and live gigs with a light setup.
This is a great model to consider if you're looking for a versatile, moderately priced piece of equipment. You'll get an impressive breadth of versatility and a sound that's comparable to more expensive pedals.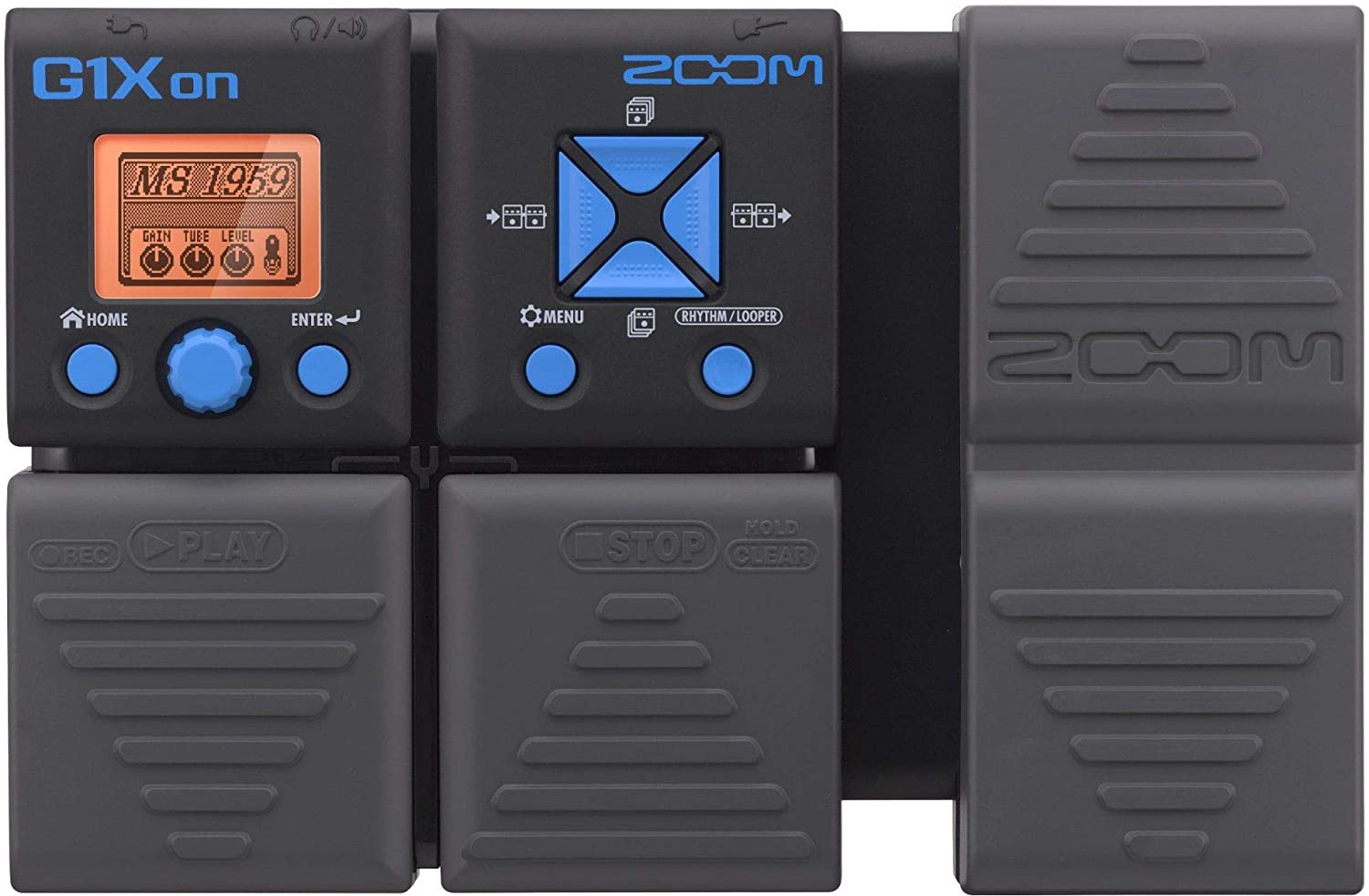 A good multi-effects pedal doesn't have to be extremely expensive or be loaded with a lot of features that you may not use, especially if you aren't aiming to be at the pro level. And there's nothing wrong with that.Keeping that firmly in their focus, Zoom has a developed a great multi-effects option for the casual player with the G1Xon.
The G1Xon has an impressive 100 amp and effect models, and you can use up to 5 of them at the same time. Programming is fairly straight forward thanks to a simplified user interface consisting of one small display, one knob, and a few assorted buttons.
One very convenient benefit is the Auto Save feature. If you're like me, there has been more than one occasion where you are programming a unit and you finally get that perfect sound after a ton of tweak time. There is nothing more disappointing than going back to get that sweet tone and realize that you neglected to properly save the patch!
With Auto Save that is a thing of the past. It is a feature that can be turned on or off. When it's on any change you make is saved – no muss and no fuss.This unit is a great tool to give you more advanced features that you will find in units that are much more expensive. There is an onboard chromatic tuner, a built-in expression pedal, a 30-second looper, and an integrated drum machine as well.
Power options include batteries (which I'd recommend staying away from), or an AC adaptor (purchased separately). With units like this – especially if you ever plan on gigging – consistent power is always the way to go.
There isn't much flexibility as far as connections are concerned. There is no XLR outputs, just the typical ¼" input jacks for your guitar cord. If you are satisfied with the overall tone of the unit and want to avoid using an amp, that can be easily fixed by running the output into a direct box, then into a channel on your PA.
The Zoom G1Xon is a budget-friendly model with a lot of great features. I'm not sure I would rely on it for heavy gigging but for a practice setup, it is more than adequate.
DigiTech has been in the guitar effects market for a long time. They have shifted away from new developments in the multi-effects market to focus more on individual effects, but they still have some legacy offerings in their product line.
The RP55 is their entry-level model, and it may be the choice for you if you are a beginning guitarist looking to expand their horizons a bit.
It comes with 20 effects (8 can be used at one time), and it also comes with 11 amp models as well. Simplicity is the main theme here as there are 40 presets that take all of those effects and models to give you great tones right from the time you power the unit up.
If you're up to some programming, there are 40 memory slots available for custom patches in addition to the presets.
Additional features include a chromatic tuner, a drum machine with 30 different patterns, and an input for an optional expression pedal.
All of these features in a cost-effective unit are great, but I have personal experience with the durability of the foot switches. Also, you'll find that while it can be powered by either batteries or a power adapter, it does not come with either. I'd highly recommend getting an adaptor over-relying on batteries, especially if you ever plan on using it in a live situation.
All in all, the RP55 may be the unit you're looking for if your needs aren't extreme and your budget isn't all that high.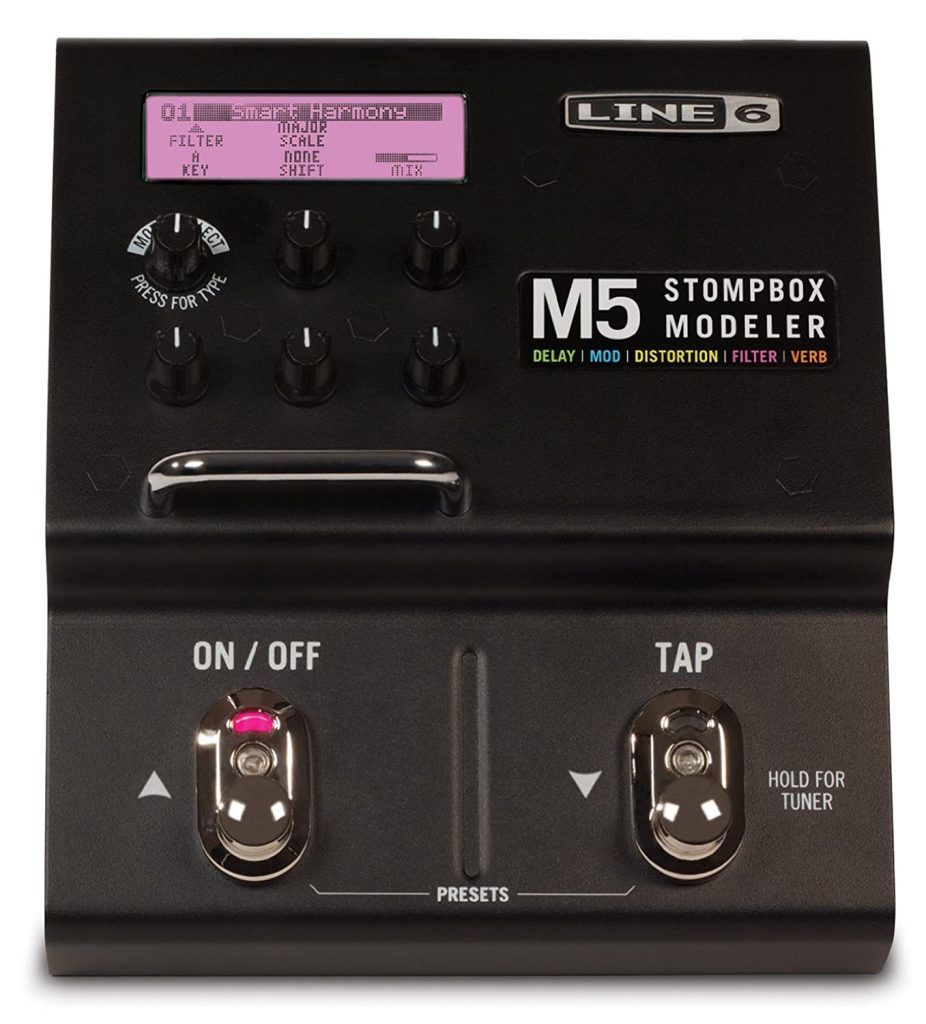 The Line 6 M5 is one of the older units on our list, but it's certainly here for a reason.
While most multi-effects units are intended to replace individual pedal boards, the M5 was built to be the most flexible pedal on your existing board.
Individual guitar pedals can be expensive, and even more so when you add up all of the individual pedals you may have on your board. The M5 solves that problem by jamming over 100 different effects into a package the size of one larger individual pedal.
If you're looking for any amp modeling, though, you'll have to look elsewhere as there isn't a single amp model to be found in the M5. It was intended to be a stompbox modeler, not a complete solution.
Numerous delays, distortions, modulation effects, compressors & EQ's, and filter effects can be called up at the flick of a switch.
You may find that some of the distortion effects aren't as true as the actual analog guitar pedals they were meant to imitate. I've found that with enough tweaking you can get close enough – certainly close enough that it's sometimes hard to tell the difference.
And did I mention that it has a tuner as well? IT also has an expression pedal input so you can access quick program parameter changes on the fly.The M5 may be the perfect addition to add an incredible amount of flexibility to your existing pedal board. Your wallet won't complain about it too much either!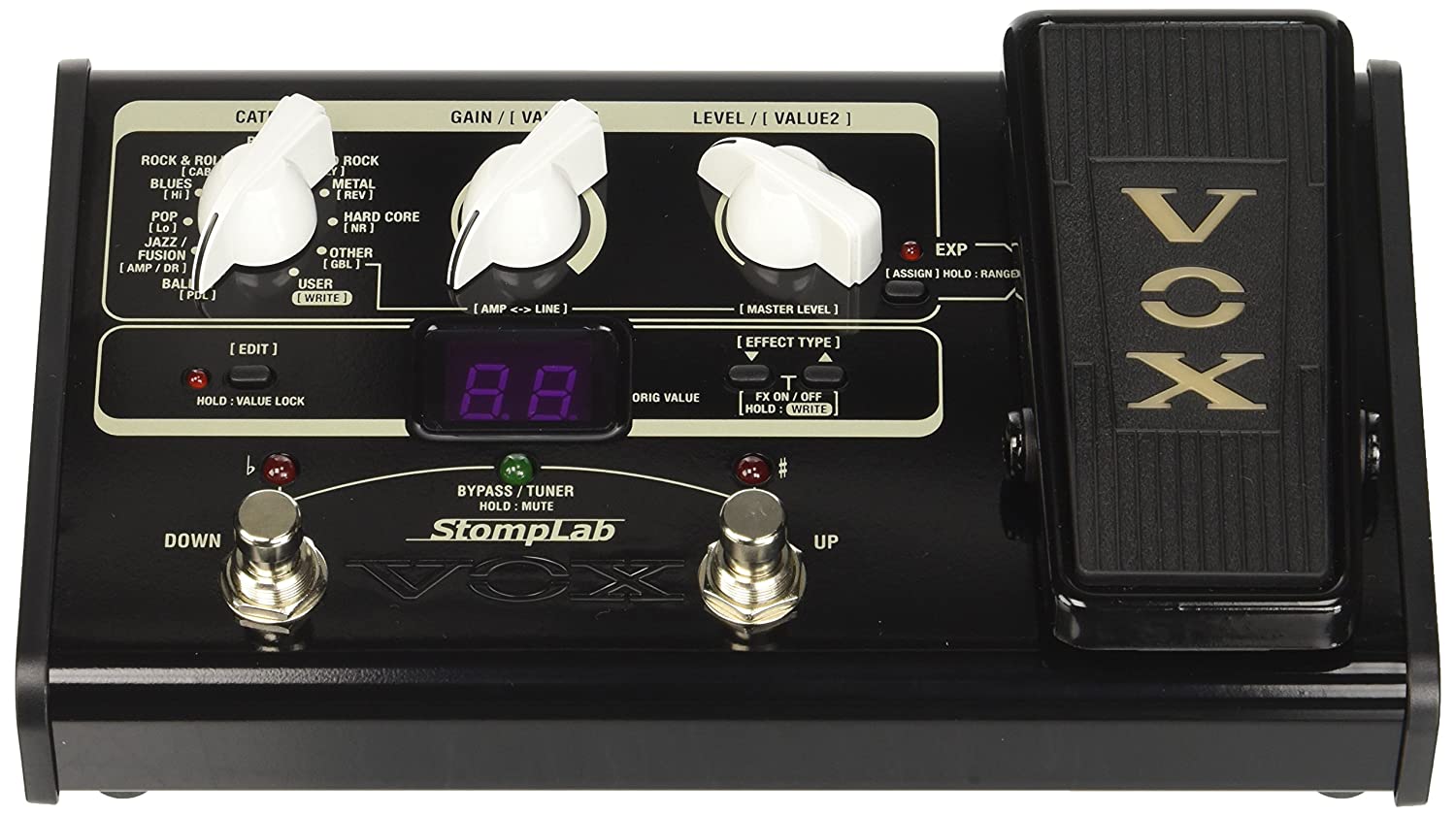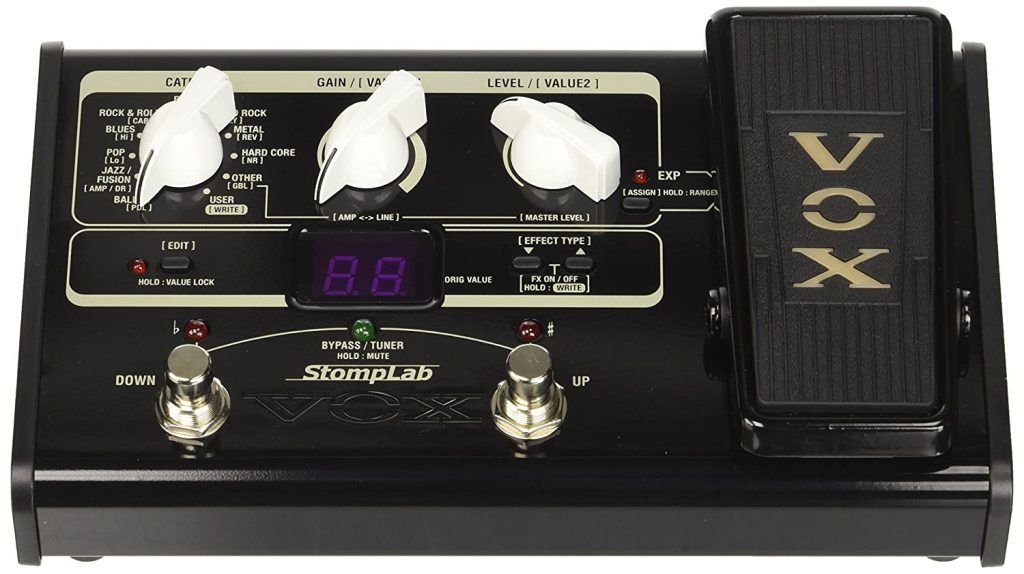 And rounding out the picks for today, we have the StompLab IIG.
The IIG is a budget conscious, no frills multi-effect pedal. And that means it's all the necessities…with little else.
It's outfitted with a sturdy metal chassis and the requisite wah wah pedal. It has several sounds programmed and ready to play. The amp modeling is there. It has a good tuner.
There are, however, a few conspicuous absences that are worth weighing out. For instance, this model is the only one of my picks that doesn't come with a loop station. It also gets by just fine without a tap tempo feature, thank you very much.
It's true that this pedal decidedly less flashy than some of my other picks, but it still has plenty of features to get the job done right.
It comes with 100 preset programs like rock, blues, metal, and pop. Edit and save your own settings to 20 custom slots. Like the ME-80, this one has a knob-based interface. Switch up your effects category, gain, and level with three dials. There are also 103 types of modeling functions to work with.
A few musicians have encountered some frustration over the IIG's power setup. Some have missed the convenience of an included A/C adapter, as this pedal's default power source is four good ol' AAs. Replacing the batteries is somewhat of a chore, involving unscrewing four itty bitty screws and removing the entire bottom plate from the unit to access the battery case.
There is, however, a 9V power adapter available for purchase separately. It doesn't cost very much. I recommend springing for it.
Power supply issues aside, what the StompLab lacks in convenience, it makes up for in performance. The sound is exceptional, especially considering its price tag. While lacking the crystal clarity of some of its higher priced brothers, many have compared the ME-80's tone to the sound one might expect from a single pedal.
While this model is much smaller than many of its peers (dare I call it tiny?), this can be an advantage to the traveling independent performer or any musician with limited gear space at home (Hello, 350 square foot bachelor pad dwellers. Yes, even for you.).
Beginner musicians looking to broaden their scope will also appreciate the IIG for its accessibility and simplicity on a dime.
---
Buying Guide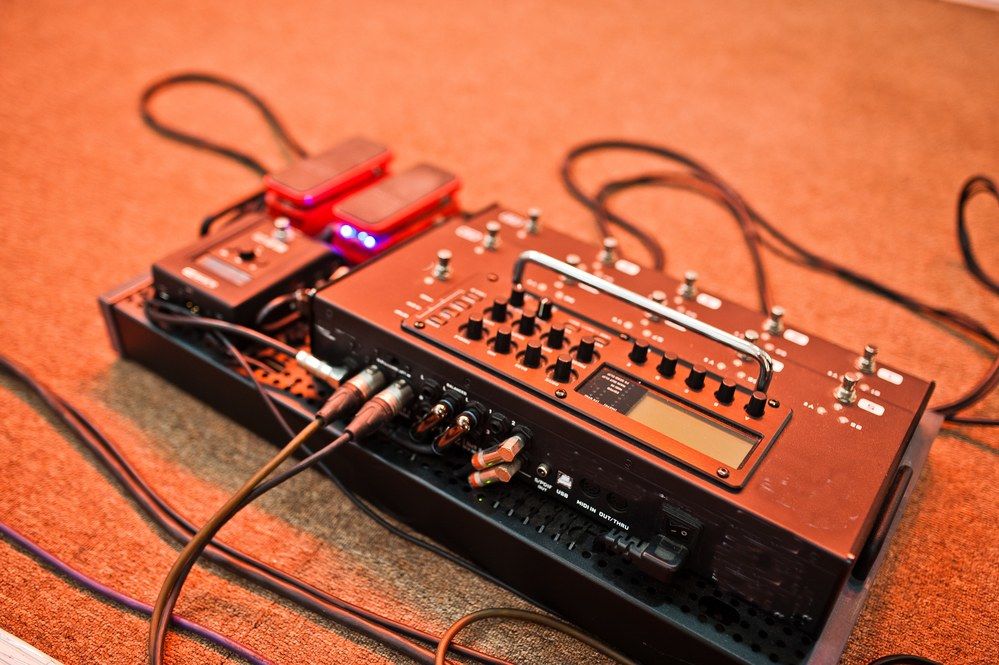 What Is A Multi-Effects Pedal?
A multi-effects pedal is pretty much what the name implies. It is a single accessory where multiple effects are all contained in one convenient unit that is hooked up between the guitar and the amp (just as a single effect pedal would be).
Individual Pedals VS. Multi-Effects Pedals
That's a tough question to answer. Single effect pedals offer a more "unprocessed" sound that a lot of rock purists appreciate. They also offer more control, especially for some of those functions like the wah, whammy, and delay, where playing the pedal with judicious skill can often offer as much to your sound as your musical skills.
However, multi-effects pedals offer a wide array of sounds for an affordable price. For a few hundred dollars, a garage band can create sound effects that, two decades ago, they would have been playing all year to save up for.
The board makes it a lot easier to switch between selections, and offers an insane amount of variety that you can mix and match and create presets for.
In addition, you can get looping and drum functions that single pedals may not offer.
And that's why you see a lot of people use a board in conjunction with a wah-wah pedal and distortion pedal or delay pedal. This makes it easy to get all of the effects you need at your fingertips (or toetips, if you rather).
Finally, a multi-effects processor can be better for live performances. With all of those presets and options you can create a lot larger feel out of your small band. And, the audience isn't likely to know or care about the difference.
As time goes on, we will start to see where these boards become modular and are sold in sets so you can mix and match them. This will offer such an incredibly mind-blowing array of control and new sounds, and will be incredibly expensive.
But I can't wait for the next evolution of music technology!
Pedalboards made up of individual effects pedals can be great tools, but they do come with some drawbacks:
Cost
Individual effects pedals can get pretty expensive. Some higher-end analog units can run several hundred dollars each, and that can add up real fast.
Let's say that your tastes are relatively simple, and you just want to use only a few basic effects:
Tuner
Compressor
Distortion
Chorus
Delay
While it's true that you don't have to go high-end, you do want good quality pedals that won't break down on you when you least expect it. With an estimate of around $75 per effect, just these five alone will take $375 out of your wallet!
That doesn't include the short patch cords that have to daisy-chain the effects to each other. Or the pedal board itself. Or some sort of method to bring power to all of them (could you imagine using batteries all the time?). Some bare pedal boards are "powered" where there are adapters that feed each effect, but the just raises the cost of the pedalboard.
Add it all up and you may find that, depending on the multi-effects unit you are considering, going the individual route will cost you much more in the long run. Some multi-effects pedals can have close to 100 effects!
Reliability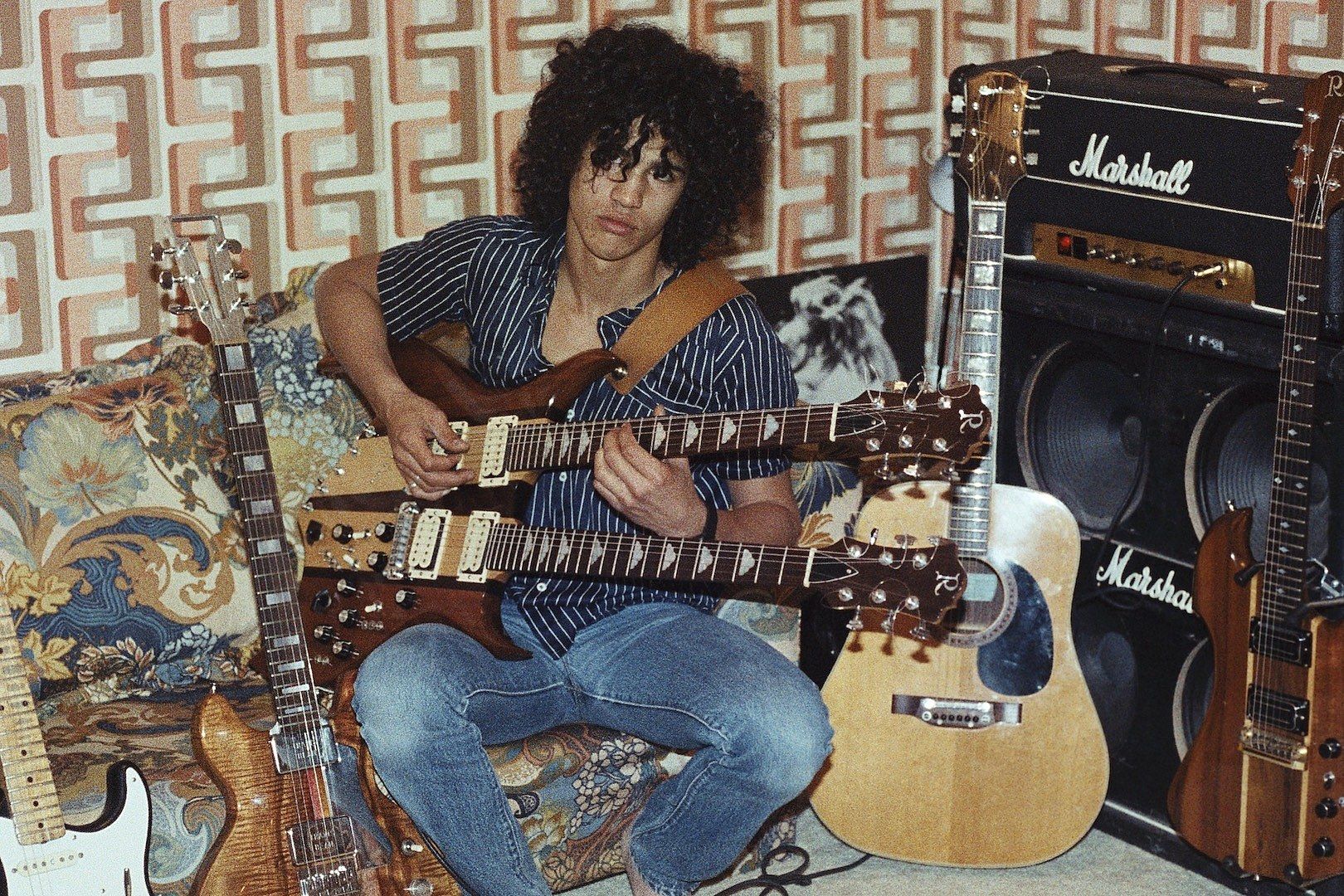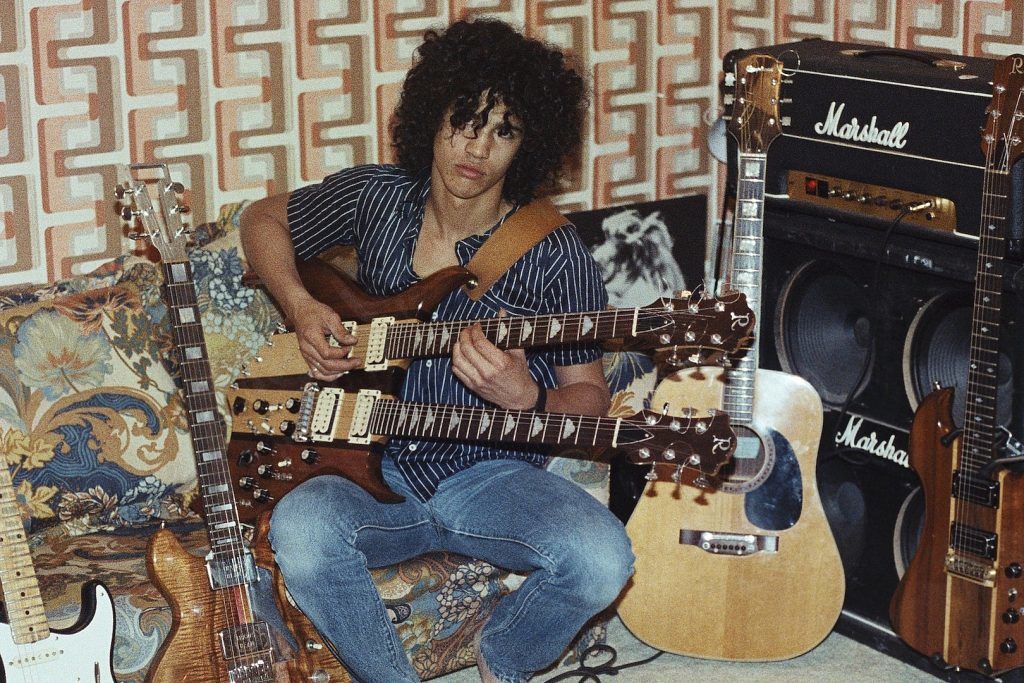 With a multi-effects unit, you won't have a lot of the reliability issues that an individual pedal board may have. The patch cords chaining the effects are notorious for shorting out, and if you have a lot of effects it can take a lot of time to figure out exactly what the problem is.
The same can be said for the power method you choose. Small power cables tend to not be the most robust things on the planet, and they can be very prone to short or broken circuits as well.
Either of these will put you in a position that you certainly do NOT want to be in right in the middle of a gig!
Multi-effects pedals completely eliminate any problems with connections between pedals because all of the effects are loaded into the electronics package. There simply are no connections to go bad!
Power connections are usually more durable as well.
That being said, a downside of multi-effects processors is that if the unit gets defective, ALL of your effects typically can't be used. It does happen – I can say that from personal experience – but it is pretty unlikely if you choose a quality unit. It also helps if don't jump up and down on the thing where the switches can go bad from hitting them too hard.
What is amp modeling?
Amp modeling is a relatively new technology that has been around and evolved greatly since the introduction of the Line 6 POD back at the end of the '90s.
To create an amp model a manufacturer will analyze the sonic footprint of a popular amp (such as a Fender Twin, a Marshall JCM800, or a Peavey 5150). From there they use software and digital technology to closely mimic those characteristics and create a digital "model".
Many multi-effects pedals have amp modeling built in. They are great tools for recording, and they can also do an impressive job in a live setting as well.
There is an ongoing debate over whether amp modeling really is any good. Some purists swear they will never give up their tube amps, and others at the opposite end of the spectrum won't ever buy or use a guitar amp again.That being said, you can't deny the fact that many touring acts are currently using high-end amp modeling exclusively. There has to be something to it, right?
Advanced units can take amp modeling even further with the addition of speaker models and microphone models. It's not uncommon for some players to swap out stock speakers of an amp to get different sonic characteristics, Having the ability to simulate different microphones can give you the ability to mimic a wide range of "mic'd guitar cabinet" tones as well.
Are multi-effects pedals worth it?
From a cost, reliability, and flexibility standpoint it's hard to argue against using a multi-effects processor over an individual pedalboard.
There are some factors that do weigh in, though, and many times it boils down to the quality of the effects themselves and how they sound. Some players are of the opinion that traditional analog circuits are the only way to go. This is particularly true when the conversation turns to distortion, overdrive, and fuzz effects. Generating a true sonic representation of a cranked tube amp with tons of gain isn't an exact science.
I've found that the features and benefits of a multi-effects pedal make them my tool of choice. Sure, there can be some sonic or operational things (especially programming them) but, for the most part, those issues are relatively small in comparison to when you get in return.
As far as I'm concerned – absolutely – multi-effects pedals are definitely worth it.
What to look for in a multi-effects pedal
There are a ton of multi-effects pedals on the market, and each one has its own set of features and benefits. You can definitely get into sensory overload trying to figure it out so you can make the best decision.
Next, we'll discuss a few points that are really important to keep in mind when you're doing your research.
What effects are included?
Many multi-effects units were meant for general use across all genres of music. a large majority of what you'll come across will have so many different effects that there will be no way that you'll use them all. But that's the beauty of a multi-effects unit, right?
Most times the multitude of effects is because of different variants of the tried and true basics. Your best choices will have most (if not all) of the list below. We'll briefly describe each one so you get the gist of things.
Before we do, there are some models that have multiple effects but they are all variations of the same effect. Make sure you realize that before you buy a unit that won't give you all of the options that you may need.
Tuner
Having a good chromatic tuner is a must. You'll be hard pressed to find someone with an individual pedal board where a pedal-based tuner isn't the very first thing in the signal chain. It's a safe bet to say that if your guitar isn't in tune then you really aren't going to get very far!
Compression
Compressors help to level out a signal so that it's evener. It makes softer sounds louder and louder sounds softer (the technical term for this is "dynamic range"). If you're a player that likes to add dynamics to your playing by how hard or soft you hit the notes then too much compression might not be your thing.
One thing's for sure – you can't get that snappy country twang without it!
Distortion
Distortion, overdrive, and fuzz are technically different. That's a topic bigger than this review though, so let's just say that you use these to get the sound of a cranked tube amp. Or, you maybe want just enough "dirt" to where it sounds like your amp in on the verge of what they call "breaking up".
Distortion effects are the way to do it. Most tube amps have to be LOUD in order to get those kinds of tones, so having a little help by way of an effect really helps to keep your eardrums from getting torn to shreds.
Delay
Think The Edge from U2 in the '80s. Enough said. Delay is where the original signal gets repeated at a certain time interval. It can be used subtly to thicken up a tone or, as in the case of The Edge, it can be the main calling card for your style.
Modulation
Modulation effects change characteristics of a signal at the waveform level. Tremolo, phasers, chorus, flanger…these are all modulation effects. They definitely add color and style to your sound and can keep it from sounding boring.
Is amp modeling included?
Not always – don't assume that it does.
It's becoming more and more common nowadays for it to be included, but some units are intended to be "effects only". Many of the less expensive units have amp modeling to varying degrees of sound quality though. Some players have the ability in their multi-effects unit but they simply don't use it. I've done that before with several units over the years. The big thing here is to make sure that amp modeling isn't the main feature where that's what you're truly paying for (especially true for high end, professional level units).
If you're happy with the tone of your amp and don't need or want the flexibility to change things up, then you don't need amp modeling.
Part of the equation also depends on how you plan to use it. Many players are moving towards using modeling exclusively so they don't have to haul around all of that heavy equipment. Some modelers have the right connections so they can plug directly into a PA, bypassing the need for an amp altogether.
In this case, then obviously amp modeling capability should be at the top of your checklist.
Do you need a looper?
Before we answer that, we need to define what a "looper" is. Many multi-effects units have looper capability built in. What a looper does is take a short recording of your playing and can be set up to "loop" over and over.
Depending on the multi-effects model, you can then record more parts over top of it and make yourself sound like a one-man band.
Loopers have their purpose in the right situations. Many solo performers use them to great effect. I haven't seen much use for them in a full band situation though.
So do you need one? It all depends on your playing style and what you plan to do with the unit.
Are effects pedals with drum kits worth it?
Depending on the feature level of the unit, some of them can come with fairly advanced drum sound features. They are great for setting yourself up to practice your timing and tempo (like practicing to a metronome), and simple beats can be recorded for demo use.
Don Felder from the Eagles wrote Hotel California to a cha-cha beat from a rudimentary rhythm machine, so there certainly can be functional uses, right?
From what I've seen the models that are geared towards the mid-to-low ranges have drum capability built in. Models at the higher end of the spectrum tend to not have that functionality.
So, it's worth it under the right circumstances. As with a looper, I wouldn't see much use with them with a band.
How many effects can I use together?
That is completely dependent on the design of the particular multi-effects pedal.
Some units such as the Line 6 M5 (included in our review) can have only one effect on at a time. Most of the others are designed to run several at once. It's not uncommon to have compression, distortion, delay, and other effects all on.
If you get into advanced units where amp models can be considered "effects", some of them such as the Line 6 Helix can run up to 32 at a time. This is an important point to not overlook. Are you looking for a unit just to solve some basic needs, or are you looking for everything plus the kitchen sink?
Does the pedal give me the control I want?
The level of control that you can get from any multi-effects pedal really depends on the physical design. Some have a relatively large amount of footswitches so you can call up a program (or "patch") with one simple click. This type of setup is best for laying live where you may have to make multiple changes to effects within a single song, and you have to pretty much do it instantaneously.
Others, particularly at the lower end of the price range, do not have that level of flexibility. I have played some older, budget-minded multi-effects pedals that only had two pedals – up and down. By using these you could scroll through your presets but that isn't always the most convenient way to do things.
In the end, it really depends on your application. If you plan on doing a lot of recording then only getting a few sounds without having to spend time scrolling through a list of patches may not be a big deal. Where I have found this to be a detriment is in a live setting.
Programming multi-effects pedals
The user interface for programming a multi-effects pedal should be a huge factor in your buying decision.
All manufacturers design their user interfaces (UI) differently. Some are simple and easy enough to understand where a few clicks of a switch or twists of a few knobs can get you where you need to be. This type of UI lends itself to the "average" user that typically doesn't have the patience (or the desire) to wade through a 100-page manual trying to figure out how to get the sounds that they want.
Other units – particularly those in the higher end of the range – have more features, and therefore the UI's can be much more difficult to understand. Don't overlook this as a major decision point. If you admittedly aren't a tech-savvy person then take the time to make sure that the unit you are looking at isn't so complex to program that you get overwhelmed. And trust me…that's very easy to do given the advanced features that many models have nowadays.
Buying program patches and loops
All is not lost though!
Some models give you the capability to purchase pre-programmed patches and loops. If you are looking to save yourself some time and headache this may be a route you may choose to take.
Many times these patches are designed to mimic the sounds of certain artists, so they may be a great way to get the exact sounds you need to play a particular song.
Conclusion
A multi-effects pedal will give any player – from the basement dweller to the professional artist – a level of flexibility that individual pedals may not be able to give.
The most important step to buying the right unit is to take a hard look at how you plan to use it. Sure, some of the higher end units may have very impressive features and benefits (such as our top choice – the Line 6 Helix – the top choice of our review list), but you may find that you really don't need all of them to reach your musical goals. Why spend a bunch of money for features that you'll never use?
At the same time, you have to look at things from the other end of the equation. Even if your budget is tight, make sure to get a lower end unit that still has everything you need.
We certainly understand that shopping for the best multi-effects pedal can be overwhelming. Hopefully, our reviews and buying guide have given you some insight on what to look for.
Now, go out there and make the best music possible!