For the intermediate to the advanced guitarist, a looper pedal can add a lot to your playing.
Even if you are not doing live gigs, they are worth considering.
For practicing, a looper pedal will teach you a lot about rhythm, timing, and harmonics. They're a great way to capture those chord progressions when they hit and save them later for playback. They also let you lay down a basic riff and then practice soloing on top of them.
Most of us know of them from their increased use in live performances we've attended. UK artist Ed Sheeran has done a lot to demonstrate the incredible flexibility of these pedals as he deftly turns a one-man gig into an entire stage of musicality.
Here are the best loopers for taking your playing to the next level.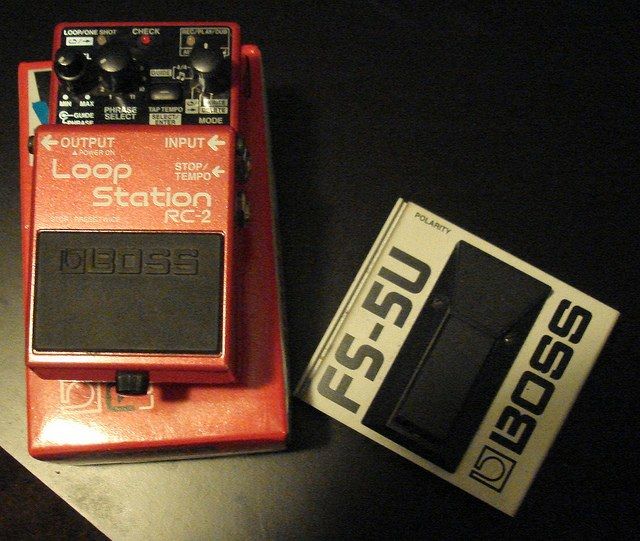 Click Here to shop Looper Pedals on Amazon.
The 10 Best Looper Pedals For Your Performance Style
When done properly, a loop station can build a little anticipation as your audience watches the performer lay down tracks and creating a multi-layered tune in real time out of basically nothing.
It's magic. It's mesmerizing like watching a potter turning a lump of clay into a high-dollar vase. (and boy, does it bring in the dollars!)
The audience loves it (provided you move quickly. You only get a couple of minutes to lay down your tracks before you lose their interest.)
Ole' Sheeran is an excellent example of an artist who used a loop pedal to launch their career. takes home both the chicks and the monies so we know this method has got to work. (Ok, so we all know he's too busy to have a girlfriend)
It's like adding another person to the band (you can get paid like a full band) — only this one takes a lot less beer to keep it playing.
---
1. Boss RC-300 Loop Station
You'll see the Boss brand on my list a few times. As an industry leader in effects pedals, they offer a unique option for every price point. We'll review the smaller RC-30 in a moment, but this one is almost like three, RC-30s combined.
Three stereo looper tracks provide loads of potential for new, lush mixes that won't degrade as you overdub the loops. The Sound Quality on this system sets the standard for what all of these pedals should deliver.
Two-foot switches and a dedicated fader (slider) for each track make it easy to keep things organized as you record. There's an edit button under each track so you can create special settings for each one.
Three hours of recording time provides tons of space for storing multiple shows ahead of time. You have 99 built-in memory slots available to fill in.
The RC-300 is outfitted with a built-in expression pedal and a nice little arsenal of guitar effects, including a reverb, chorus, delay, flanger, phaser, and more. The selection is just enough and not too much. It's a nice little sampler, really. The only drawback here is that you're limited to using one effect at a time (you'll likely have this plugged in after a multi-effect pedal or your pedalboard, anyhow).
It also comes with a rhythm generator so you can set your rhythm right there in the unit. You just tap out the beat pattern (such as funk or rock) you want, and then there are loads of rhythm options to choose from. Just switch it to the beat style you want and it will play that beat at the speed you had preset by tapping.
While some musicians praise the RC-300 for its "plug and play" user friendliness right out of the box, many more have expressed chagrin over this guitar looper's complexity, pointing to a fairly steep learning curve for all but the seasoned guitarist. The owner's manual takes a lot of flak, securing for itself a reputation for being dry, complicated, and unhelpful.
Don't worry, Youtube has your back.
To balance out this problem, I highly recommend you turn to the online community, where vast troves of easy to understand tutorials, videos, and guides have been created by the masses for the masses. The resources on Boss's website are also considerably more helpful than the print manual (hopefully, this means that a revision is in the works).
I suspect that a great deal of the intimidation musicians encounter when first getting acquainted with this product is due to the sheer size of the thing…also, all the buttons.
Personally, I find the array of settings to be exhilarating. It's an invitation to experiment and customize to a degree that most guitar loopers simply don't allow. And as for the size…well…yes. It's pretty huge. Like, 9 x 21 x 76 inches kind of huge, weighing in at a whopping 8.7 pounds. (To give you an idea of its hugeness, the second-biggest model in this lineup, the Pigtronix Infinity Looper, is just 2.4 pounds.)
This is a sturdy, even tank-like looper built to stand up against a serious beating, making it ideal for even the most enthusiastic stomper. It packs all the looping capability you will ever need in a device — no matter how far you go in your music career.
While some people worry about its size, I've seen guitarists carry it with one hand when getting set up on stage. It's heavy, but it is also very professional and is the best looper pedal with the most options and flexibility. A quick note that the RC-505 is also an incredible pedal, but I prefer the large external footswitches on the RC-300 for live performances.
>> Click Here To Look At The RC-300 Looper
---
2. Pigtronix Infinity Looper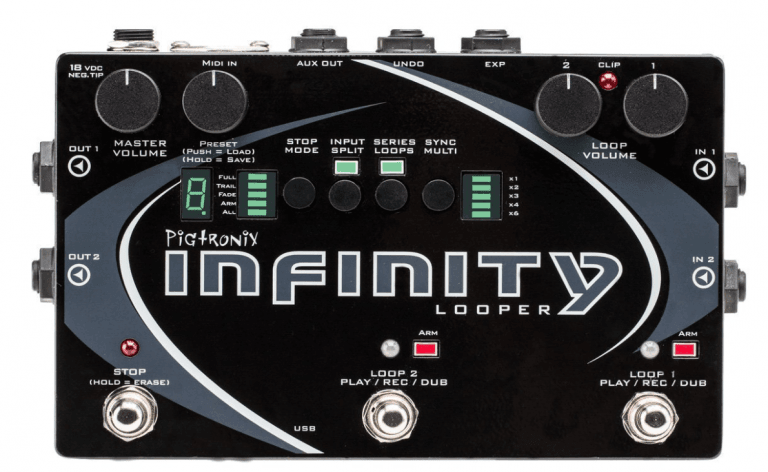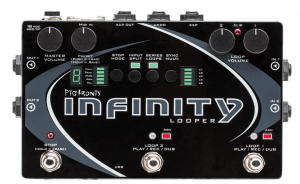 Besides having a name that's rather fun to say (Go ahead and say it: "Pigtronix Infinity". I'll wait.), this looper has a whole lot of good things going for it. For starters, it comes encased in a really snazzy looking chassis. LED lights, stomp switches, volume dials…it looks pretty.
A few noteworthy features set the Infinity Looper apart from others in its genre. For instance, you can run two stereo loops—controlled by separate stomp switches—in sync or in series. Cool, right? That's a feature that's missing from the RC-300. The "sync multi" feature makes fun use of a loop two multiplier, which enables you to increase your loop duration by two, three, four, or even six times.
Another difference is its size. Measuring a scant 12 x 9 x 4 inches and weighing in at just 2.4 pounds this model is decidedly more compact and lightweight than the RC-300. But it's not like you'll have to worry about accidentally kicking it into your audience's midst when you're playing in a live format—it's still solid enough to stay put and do as it's told onstage.
Unfortunately, the Infinity not only lacks the bulk of the RC-300 but the memory storage as well. For a reason I have yet to uncover, the Infinity's memory banks hold just 9 programmable slots. This is a bit bewildering since even comparatively tiny and cheap models (like the DigiTech Jam Man Solo, listed below) can hold 99 presets. Still, this model carries its weight in other ways, like its 3 hour recording time.
A single LED for each loop—pulsing with each bar—lights up red, yellow, or green, depending on whether your loop is recording, dubbing, or playing. (This won't be a problem for most users, but I personally know a couple of red/green color blind guitarists who would run into some difficulty with this feature, so that's something to keep in mind.)
If you can get used to the sometimes clumsy start/stop/overdub sequence (which can be easy to goof up in the beginning, especially with the absence of an "undo" feature once your base tracks are laid down), everything else falls into place pretty quickly. The addition of a foot switch narrows the margin for error and is highly recommended.
Dual auxiliary inputs and monitor make this looper ideal for multi-instrumental band play. Hook up a second guitar, keys, a drummer or drum machine or bass for a more complete sound.
Another band-friendly feature is the loop output, which runs looped audio to your stage monitors, making it easy for your drummer to keep tabs on everything happening onstage.
Other elements to love: pristine 24-bit, 48 kHz recording; true analog bypass; easy USB access for computer backup and editing; multiple firmware customizations available online; and it's made in the U.S.A., baby.
Elements to love less: the count in function only works when synced with a MIDI device, there's an intermediate level learning curve, and it doesn't present the same value as other contenders in its price bracket.
Overall, this looper was designed for seamless, low-latency loops and layers with no gaps of silence when switching between presets, and it really delivers. I'd recommend it for experienced musicians who want a portable looper for gigging or practice.
>> Click Here To Look At The Pigtronix
---
3. Digitech JamMan Stereo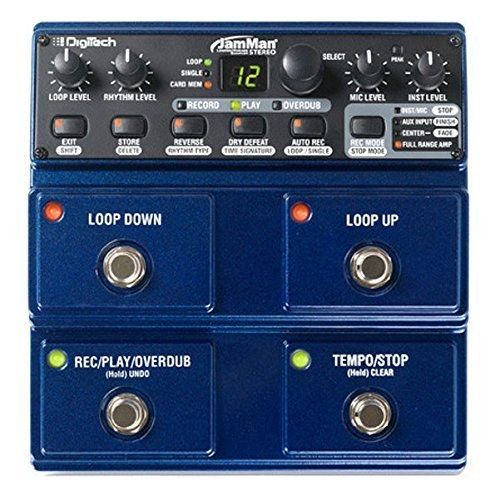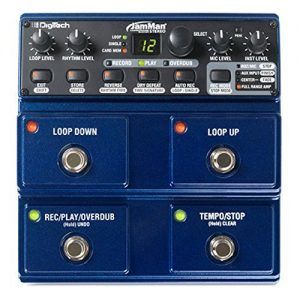 This pedal is very similar to the Boss systems in that you have one active loop in temporary memory and then you can pre-store 99 other backing tracks. As with the Boss, you are only playing one of these at a time. That said, it switches seamlessly. If you select another track from the stored memory, it will finish playing the track it is on and then begins playing that one.
It does have an XLR microphone input, with room for two guitars or a guitar and bass or guitar and keyboard as a complete stereo looper. There's also an aux input in case you want to use an MP3 player. A quick note that it does require a dynamic mic as there is no phantom power.
In addition to the already large amount of memory this device has, there is an SDHC card slot and a USB port for connecting it to your computer, making this an ideal device for folks who want to use backing tracks.
The four pedals make it easy to navigate. This cuts down on the need to double-tap since you have dedicated pedals for the separate tasks, making it ideal for live performing. One of the coolest features is that you can navigate the stored memory settings with the pedals and don't have to use your fingers as you do with the Boss RC-30.
Personally, my brain makes sense of the Boss, but the fact that you can pre-record and move between the stored recordings, makes this an excellent system for live performance if you are the type to use backing tracks.
>> Click To See The JamMan Stereo
---
4. Boss RC-3 Loop Station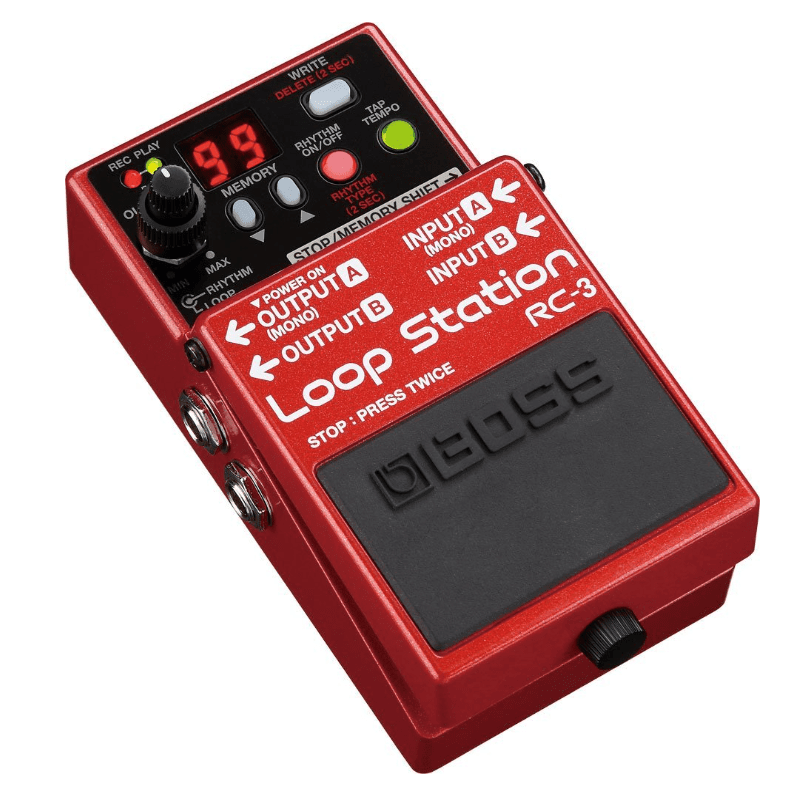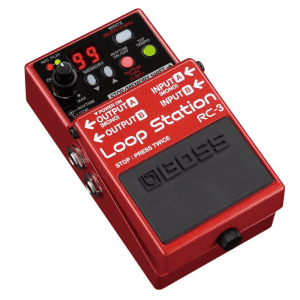 If the complexity of the RC-300 is exhausting to even think about, don't worry. There's another Boss for you. It, too, is pretty boss.
Sharing many of the same lovable internal features of its hulkish big brother at less than half the retail price is no easy feat. For that price, you still get 3 hours of onboard recording time and 99 programmable memory slots. You also get the convenient USB hookup for backup and extended editing capability without any software needed (which is great news for everyone, including Linux users, who don't have as many software choices because of their against-the-grain choice of OS).
Its design really calls to mind the image of my old first generation Nintendo Gameboy, actually. It's that perfect storm of compact rectangular shape, late-blooming 80's-chic style, and that bold shade of crayon red that does it, I think.
The sound takes a little step down from the RC-300's 24 bit to a simpler (but still respectably clear) 16-bit recording quality.
The RC-3 takes a 9V battery and has an optional AC input (though the cord is not included, you'll have to get your own). It's kind of a devourer of batteries, actually, burning through a fresh one every two hours or so. Keep that in mind and take a spare if you're bringing it along to a gig.
The selection of onboard drum effects is limited but useful. Ten beats each for 3/4 and 4/4 time. Other time signatures were either excluded from the party or their invitations were lost in the mail. That makes this a fun extra feature, but nothing to fully rely on when you need percussion.
Some drawbacks: Although it's possible to plug your headphones into it, you're really not supposed to…the manual warns pretty strongly that headphones may be damaged.
There's a latency issue when switching between phrases that make for potentially awkward gaps of silence in a live setting. Rhythm is tap tempo only, relying on a gummy button that really needs to be pressed by hand rather than stomped. (The latter problem is lessened by adding a foot switch.)
If you go with the RC-3, be sure to explore your owner's manual and really educate yourself about your new toy. This is the little looper that could, and there is so, so much you can do. It's ideal for practice and songwriting and it can also be a good companion in the studio.
>> Click To See The RC-3 On Amazon
5. DigiTech JamMan Solo XT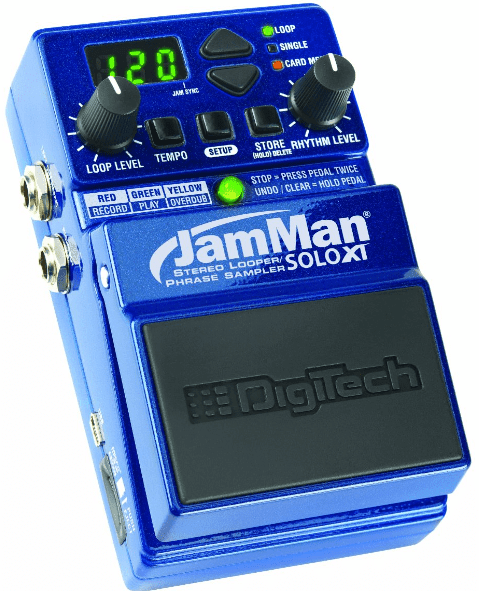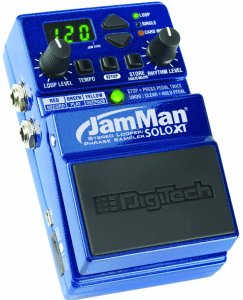 Similar in style to the rectangular gameishness of the RC-3, this compact looper is another good choice in the middle of the price spectrum, offering a lot of bang for your buck.
The Solo boasts 99 onboard memories and 35 minutes of internal recording time…even more, if you want to plug in an SD card (not included but easily acquired).
The USB connection and free editing software make for easy backup and revision. 24-bit A/D/A and 16 bit recording provide a great, CD quality sound. The manual is a fast and simple read that will have you playing in no time.
The Solo gets an upper hand on the RC-3 in a few key areas. Most notably, this model has a built-in pedal for creating loops. Any time signature is possible with this one, allowing you much more versatility.
You can plug in your headphones and play away without worrying about any significant risk of damaging them.
This looper includes some enjoyable basic features, such as the available auxiliary input, making it possible to import audio from CD and MP3 players for creative samples. Also noteworthy is the "Time Stretching" feature, enabling you to slow down or speed up your sound loops without any effect on your pitch.
There are only 9 drum beats built in, and they don't actually record into the loop. They're there more as a reference point to help you keep the right tempo, I guess. Not wonderful for recording, but it's a fun asset when writing new music.
It's super lightweight and compact enough to fit in a gig bag pocket, if you feel like taking it along, though I don't personally recommend it for live applications…it's almost too light, making it easy to kick around when you're just trying to get a solid stomp for loop changes. Accidentally sending your looper careening off the stage can really make you look like a rookie.
Besides the size issue, it can be glitchy when playing live. This can be remedied if you store your tempo beforehand along with the pre-recorded loop you want. Otherwise, syncing is tricky and can cause a hiccup with every loop cycle. If you take it with you, I don't recommend improvising.
I think this is a good bet for a guitarist wanting to experiment with loops at home. It's an excellent songwriting companion and a decent gateway drug to the bigger and better tools that are out there.
>> Click Here To See Pricing On Amazon
---
6. Electro-Harmonix 720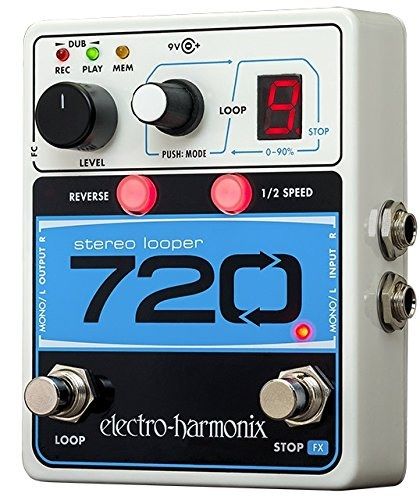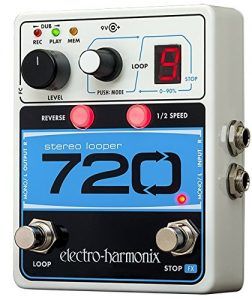 This is a fascinating guitar-only looper similar to the TC that we reviewed above. Made in China and then assembled in the US (NYC), it is a solid box with plenty of intrigues.
You get 12 minutes of recording time and can store 10 independent loops. The footswitches are silent so your audience won't hear you clicking around on stage, enabling you to work your magic in silence.
The two-button control is what earned this a spot over the TC Electronic Ditto Looper. With the Ditto, you are doing a double-tap to stop and then it tends to play a few notes of your song. With this, you just tap the stop switch and you are done.
The Electro-Harmonix also has cool features with the reverse and half-speed, letting you improvise and add extra elements to your playing with the touch of a button.
Probably one of the easiest to set up and play right out of the box. The presets save your music even when powered down, making it easy for you to set up at a moment's notice.
Supposedly, it is wired for a battery, but folks have complained of there being no room inside the box to fit a 9v battery. I wouldn't know since I run everything on DC power. Be aware of this.
As an ultimate guitar looper, this is a reliable machine.
>> Click to Price The Electro-Harmonix
---
7. TC Electronic Ditto Looper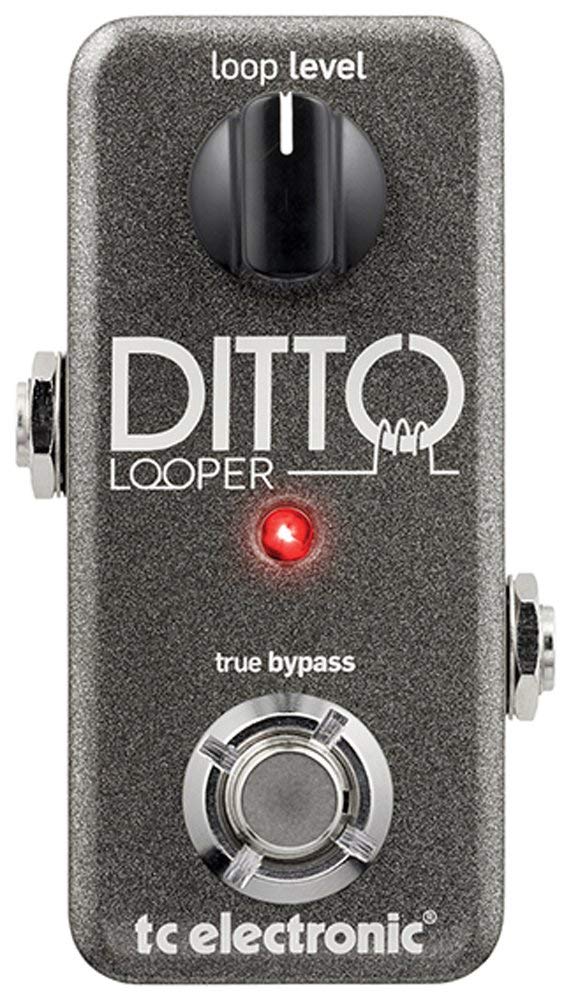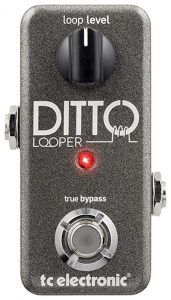 I am a minimalist. I run this website from a 13″ touch screen laptop that I take with me everywhere. I probably need a bigger screen, but then it kills the minimalism.
This pedal from TC Electronics instantly appealed to me. It's one of those that is super simple to use, and designed in a small form factor but offers a lot of playability.
A true bypass system with analog dry run-through, your audience won't know it is there until you are ready to add that little something extra to your show. You get 5 minutes of loop time, unlimited overdubs and undo and redo features. It's all you need.
This is an excellent system for setting up a basic riff. Some folks use this to set up the riff early in their signal chain, and then have another looper near the end of their chain for doing the more complex work.
But, it definitely lacks the finesse and features of the other systems and finds itself a little lower on the list, reserved for users who value simplicity above everything else.
>> Click To See Price On Amazon
---
10. JamMan Express XT
Last
, we have the DigiTech JMEXTV. This stylish looper—calling to mind the sleek, retro style of 1950's guitar gear—is a stripped down skeleton of its colleague, the JamMan Solo. At about half the price, your dollars will still go for miles before you've exhausted this loop pedal's capabilities.
24 bit, 44.1 kHz sound, and true bypass analog make this looper pedal a great option for budget-minded sound purists. 10 minutes of onboard time is twice that of its chief competitor, the TC Ditto (which, in my opinion, doesn't hold a candle to the loopers listed here). You can enjoy fearlessly stacking unlimited loops on top of one another with undo and redo capability.
Da Vinci said, "Simplicity is the ultimate sophistication"…guitarists will find this ultra-responsive foot switch interface to be way, way simple.
The "plug and play" factor here is pretty astonishing. A single, click-free button; dual stereo input/output; and a volume control knob are all you have to get to know.
The cost of this sophistication, however, is a lack of USB input and zero onboard memories. No presets for you, my friend. Whatever loop you're working on will be retained as long as there's a power supply engaged, but the included 9V battery only goes for about an hour of play, so use the DC jack.
My suggestion is to keep a backup 9V battery installed, but rely on a DC cord (not included) for power. This is also a more practical solution, given how inconvenient the two-screw battery plate situation can be.
Some of my favorite highlights with this model: Multiple JamMan devices can be daisy-chained together for multi-track using the dual stereo inputs. My aforementioned colorblind musician friends would appreciate the three separate LEDs to indicate play, record, and overdub status. The unique "Silent Clear" feature zeroes out the loop while muting any audio output.
The JamMan Express isn't ideal for playing live, chiefly because timing your loops can be tricky. The double tap required to end playback is awkward and can take a little finesse to pull off on the fly, especially in the beginning.
With fewer features, a simpler interface, and little internal memory to speak of, my last pick truly is least…but I don't think that's such a bad thing. Musicians looking for something simple to toy around with when practicing or songwriting will really treasure the resources bound up in this little box.
> Click Here To See This Economical Little Loop Box
---
As with any equipment, make sure you spend the time getting used to your new loop board. The nice thing is, these boards are fun to practice with and it doesn't take much encouragement to want to spend hours on 'em.
You'll be looping like a pro in no time.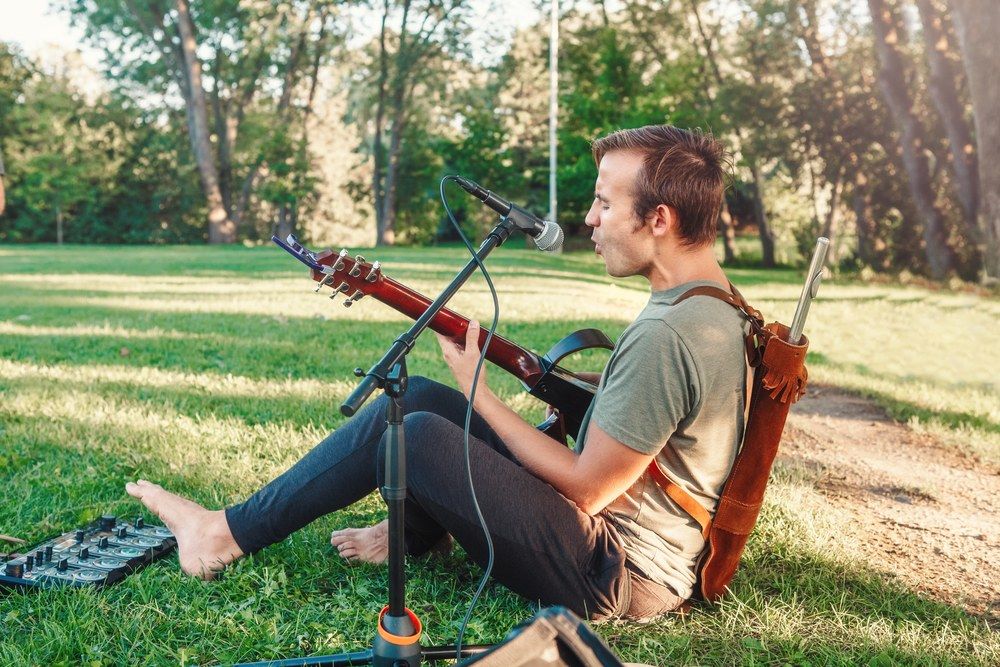 Buyer's Guide and FAQ
Can you add Vocals/Drums/Piano to these loops?
Absolutely. Most loopists (Ha! I invented a term!), will add all sorts of improving percussion, beatboxing and backup vocals to their singing.
However, with the vocals, it is difficult to use it for harmonization. The pitch and tempo on the first take have to be perfect, and, with the human voice, it is really hard to get that right. If you will notice, most artists tend to use very little vocality in their loops.
My Drummer/Pianist/Band Don't Like My Looper
While a looping system works well for a solo artist, it becomes much more difficult when you bring in other talents alongside it. A lot of small band artists simply don't have the practice and or discipline to feel comfortable playing with recorded tracks.
That or the timing on your loops truly do suck.
The high-end pedals we review below actually have an output that you can send to a separate monitor. This is great to feed into the drummer's headset or to the stage monitors so that the rest of the band can be in sync with you.
And, of course, practice, practice, practice with whatever unit you decide to go with.
Most advanced players say a minimum of 30 hours of practice is required to start feeling stage-ready with these units.
Where In The Signal Chain Should I Place My Looper?
The easiest place is to put it last — just before the amp.
This way you create the sound with all necessary reverbs, delays, overdrives, etc and then loop that sound.
A more advanced skill would be to place it at the front of the chain and then add effects as it loops. This can let you adjust the song and add effects throughout the song without laying down a new or extra loop for each sound. You hear a good example of this song in the intro of Maroon 5's "Girls Like You" where the repetitive guitar riff is loud for the intro, muffled for the first line, and then is brought back in right before the chorus.
However, it takes a lot more skill to get used to it in this position and to keep your board adjusted throughout the song. (ie. accidentally turning off overdrive mid song when you mean to turn on delay)
Now, loops take a little bit of time to master. The key thing is you have to get your timing down. All of us have made the mistake of getting a loop started and then coming in half a beat late on the second track. It sounds awkward.
Furthermore, there are times when you want to lay down a separate track, build loops separately for mixing and matching later on… and all of that takes some practice to get good at.
So is a looper pedal right for you? If you are serious about playing, are willing to practice at it and already play small gigs and in church, then, definitely. Get one.
As you practice, it will become a second nature tool for improving and building tracks. You'll use it to get serious. You'll use it for fun.
With the right pedal, you can even set up your show beforehand, and use the loops to supplement your playing in different parts of the song.