Delay pedals offer a unique guitar playing experience, no matter what genre of music you're into.
Whether you use them discreetly or go full on, it's a very fun effect to play around with.
However, if you don't really know how they work and how to properly use them, choosing one can be a pretty difficult task.
From unique features to different types of delay and everything in between, we will go over the most important specs and factors you should be familiar with when talking about delay and echo pedals.
Different Types of Delay Pedals – What Exactly Are You Looking For?
First of all, let's talk about what exactly a delay pedal does.
A delay pedal takes the signal coming from your guitar, and replicates it a certain number of times, and adds it to the end signal.
You can basically think of it like an echo, but with more refined parameters you can tinker around with.
That being said, it's important to note that there are a couple of different types, or presets, of the delay effect that are the most popular.
Some of those are digital, analog, tape, tube, and slapback.
The main difference between analog and digital delay may not be that obvious to beginner guitarists, as it's mainly a matter of details.
Tape delay is a vintage effect that actually includes sounds of a tape and its mechanism apart from the actual tones from your guitar.
Slapback is mostly used by country and rockabilly bands and mimics the delay between two tape heads on olds tape recorders.
Because it's kind of difficult to really describe and differentiate these types of delay, it's best to look them up on Youtube and get a better idea of how they sound.
Fortunately, there are many pedals out there that offer more than one type of this effect, usually with a dedicated knob for selecting from a variety of different kinds.
Parameter Controls – Fine Tune the Effect
Now that you have at least a rough image of what a delay pedal is capable of, you need to be able to tune and shape your sound.
Different manufacturers and brands label the parameters in different ways, but generally speaking, there are 3 main parameters you play around with when talking about delay pedals.
Effect level is used to set the amount of the altered signal that's present in the mix. You're balancing the amount of the dry and wet signal, with the dry being the tone of your guitar and the wet the actual delay effect applied.
Delay time (Level) sets the time that passes from the moment you play a note to it being repeated by the pedal. This allows you to either have the repeated note very close to the original, or seconds after it.
Feedback tells the pedal how long the repeated note will last.
With these controls, you can, once again, either apply a very subtle effect to your playing, or a very melancholic, ambient, space-like vibe!
Features Unique to This Kind of Effect
While most beginner guitarists will find the previously mentioned controls to be more than enough, there are still some features to look for, that can, on certain occasions, come in very handy.
Preset feature pretty much allows you to save different presets and load them by simply pressing a button.
This is very convenient if you plan on utilizing this effect on stage, or generally, alongside a band.
Tap tempo gives you the ability to provide the pedal with the exact tempo you have in mind.
Some pedals use a footswitch for this feature, while others include a dedicated knob.
Once again, a footswitch is more convenient for on-stage use, while a knob can be more precise in certain situations.
Looper is a feature, or rather an effect, that you can definitely get as a separate device. However, some delay pedals offer a relatively simplified and limited version of the looping effect, because it can really go well alongside delay.
As you would with any effects pedal, and piece of music equipment in general, think of the specs and features you find to be the most important and choose accordingly!
Now, let's see what the different models on the market have to offer.
Reviews of the Best Guitar Effects Pedals for Delay and Echo
Donner Yellow Fall Vintage
If someone tells you there isn't a good delay pedal for under $50, they definitely haven't heard of the Yellow Fall Vintage by Donner.
This miniature pedal may not look like there's much going on, but it performs surprisingly well!
Things are nice and simple, with a compact aluminum body and only 3 knobs and a footswitch. The main knob controls the time of the delay and feels pretty precise, offering many various presets.
The other 2 knobs are used for adjusting the echo and feedback parameters. The only downside of these is the fact that they are ridiculously small and may be a bit tricky to use on a poorly lit stage.
The Yellow Fall Vintage offers true bypass and an overall good performance. You can hardly find a delay pedal that's this cheap and great sounding.
Pros:
Incredibly small and portable
Simple yet effective
Above average performance
Great for beginners, affordable
Cons:
The smaller knobs are just too tiny
Doesn't seem too durable and longlasting
Whether you're a beginner or a more advanced guitarist looking for just a simple delay pedal, the Yellow Fall Vintage by Donner is your best budget choice.
At number 2, we have yet another inexpensive model. The Coral Echo by Valeton is a delay pedal rocking a compact form factor alongside a bunch of interesting presets you can play around with.
Unlike the previously mentioned model which was analog, the Coral Echo is a digital delay pedal. Beginners shouldn't notice too much of a difference, and the included features definitely make checking this model out worth it.
The interface is pretty similar, with 3 smaller knobs and one big this time. The smaller knobs control the mix, time, and feedback, while the main one is used for switching through different presets.
These presets include your standard digital, analog, tape, and tube sounds, with 7 more, for a total of 11 presets to choose from.
Sure, these emulations may not sound exactly like the analog versions, but when compared to other pedals in this price range, the Coral Echo does a pretty good job.
Pros:
Small form factor
Great sounding presets
Higher level of control over the effect
Still pretty affordable
Cons:
Small knobs are difficult to use
The print could be easier to read
The Valeton Coral Echo is a fine example of a well built yet affordable delay pedal with a good number of different presets to choose from.
TC Electronic Flashback Mini
TC Electronic is known for making some of the best effects pedals on the market, and their Flashback Mini delay pedal is no exception.
This model retails for around $100, but at first glance doesn't offer much more than the previously mentioned budget pedals. So why should you consider getting it?
The build quality is, as expected, at a much higher level. Both knobs and the actual footswitch feel very durable.
As far as the controls go, all of the parameters are adjusted via 3 knobs, feedback, delay, and fx level.
It's actually the Toneprint technology that makes this model stand out from the crowd. This feature allows you to load numerous different presets to the pedal via a USB cable.
And, of course, the audio quality both in terms of the effect and the dry signal is at a noticeably higher level.
Pros:
Crisp audio, keeps the natural sound of your guitar
Toneprint feature for loads of different presets
Probably the best delay pedal for under $100
Cons:
Toneprint only allows one extra preset at a time
Can be powered only via a wall adapter
The Flashback Mini by TC Electronic is a great choice for any guitarist looking for a great sound over a bunch of preloaded presets. The Toneprint feature definitely adds to an already well-rounded device.
The MXR M169 Carbon Copy is the delay pedal of choice for many guitarists that prefer a heavier sound. However, this model is amazingly versatile as well and will fit in any pedalboard, no matter the genre of music in question.
While it may seem like just another delay pedal, the M169 has a couple of tricks up its sleeves.
The build quality is at a very high level, and it's best to say it's one of those tour-grade pedals you can count on even after months of playing every day.
The 3 knobs on the top may seem as too simple but are precise enough to offer a wide range of different presets. Besides those, there are 2 trim pots inside the pedal as well, for additional fine-tuning of the modulation.
Besides the 20 to 600ms delay time range, there is also a slight pitch shift feature, so you can really go all the way with the effect.
While most other delay pedals don't really focus on the distortion channel, the M169 performs flawlessly on both the clean and overdrive mode.
Pros:
Rugged construction
Precise controls
A more natural sound signature
Cons:
Internal trim pots are tedious to adjust
Hard rock or heavy metal guitarists looking for a delay pedal can't go wrong with the M169 Carbon Copy.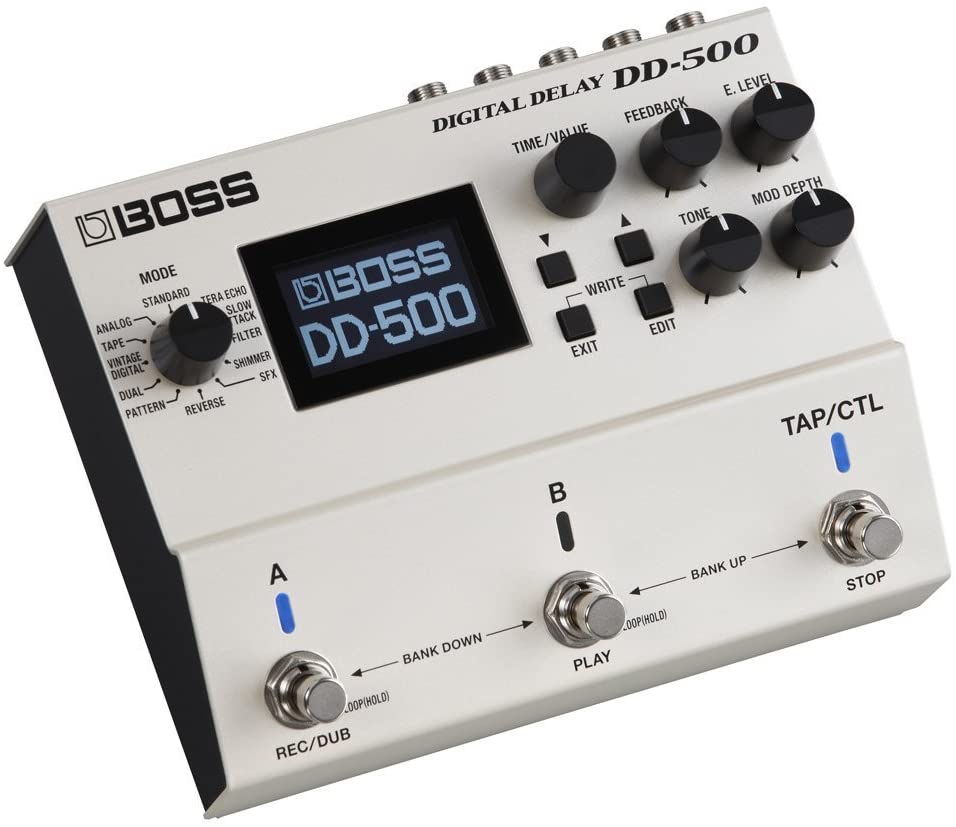 And last, but certainly not least, we have the DD-500 by Boss. In terms of overall sound quality, features, and, unfortunately, the price as well, this is as good as it gets.
If you're making your own music and find the delay effect to be absolutely crucial, the DD-500 is definitely for you.
This pedal records the delay snips at studio grade quality, so no additional explanation is needed when it comes to the actual performance.
It's great for both studio and on-stage use due to the 3 footswitches it has. One is used for recording and dubbing, the other for playback, and the third fo the tap tempo feature.
With 12 built-in delay presets, and very extensive parameter controls, you can get pretty much any kind of delay effect.
With a built-in looper function as well, it's clear that the DD-500 means business.
Pros:
Top of the line build and audio quality
Still relatively easy to use
Looper and tap tempo features
Room for hundreds of user-made presets
Cons:
Pretty expensive
Meant for professional musicians and serious enthusiasts
For around $350 you truly get an amazing pedal capable of much more than just the delay effect.
Conclusion – Which Pedal is Recommended?
After reading this article, it's pretty clear that there are many different types of delay/echo pedals you can get.
However, if I had to recommend one of the mentioned models, it would have to be the TC Electronic Flashback Mini.
Though it may not have a bunch of preloaded presets, the overall performance and sound quality it provides makes it, in my opinion, the best choice for beginners and more advanced guitarists.
The Toneprint feature, while relatively limited, offers a nice touch in terms of versatility and expandability.
Of course, at the end of the day, it's your personal preferences and taste that matter the most.
I hope this article helped you in finding the right delay/echo effects pedal for your needs.
Thank you for reading and I'll catch you in the next one!