There are three things that make up your guitar sound: the guitar. the amp. and the pickup.
Now, I have already gone into excruciating detail on Acoustic Pickups, in a separate article. This article is dedicated to the best electric guitar pickups.
New pickups can be better than buying new instruments. If you want a different sound, or want to lend new life to an old guitar, new pickups are the way to go.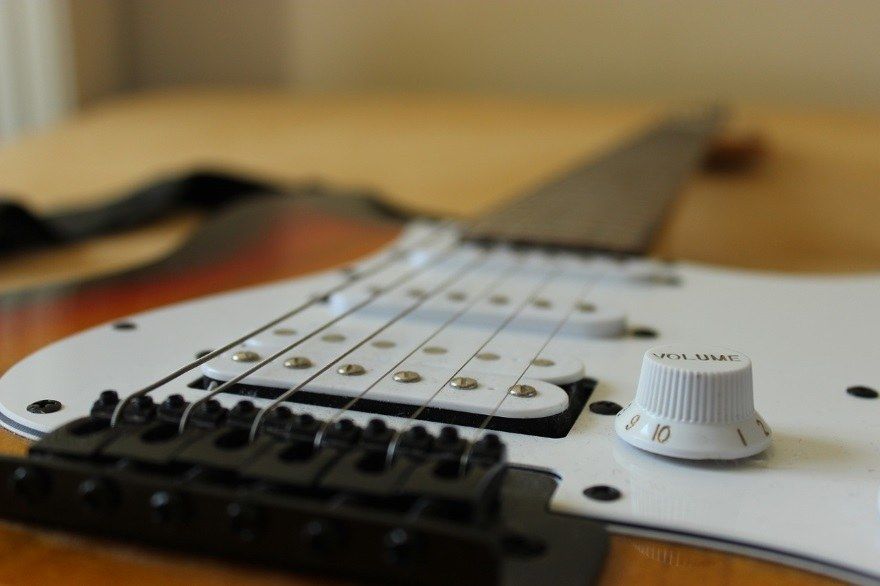 Go Here to shop Guitar Pickups on Amazon.
However, there are a lot of options to choose from. In the Buying Guide I would like to spend some time providing an easy-to-understand overview of how they work, and what you want to look for when making a purchasing choice. You probably would want to be careful with trusting an eBay seller's description to tell you what tonal differences you will achieve when you install a new set.
It's always best to buy new from reputable sources when you are able. Even if it means holding off until you've saved a few more dollars.
If you know what you want, then just keep scrolling to see my list of reviews and comparisons to find the perfect pickup set to upgrade your instrument, and your game!
---
1. The Seymour Duncan APH-2s Alnico II Pro Slash Humbucker Review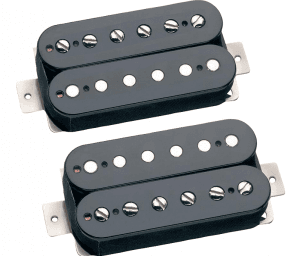 This is truly a beautiful piece for every guitar lover out there.
It gives great sound and is a quick and easy upgrade to your instrument if you are not satisfied with the clarity and tone provided by your factory burst buckers. The best part? It won't break the bank.
These are some of the best pickups for the price that you will find anywhere.
This is a moderate output humbucker set that gives a sweet, warm, vintage sound and creates clear notes that ring wonderfully, giving ranges either clean or 'with extreme levels of gain' — everywhere you could want in between.
Neck and bridge pickups work together perfectly, the neck pieces giving wonderful singing quality with no muddiness at all and the bridge's contributions are beautifully clear and sweet. You will get plenty of output without sacrificing tone.
The installation is so easy that even a novice can install pretty quickly by following the easy-to-read schematic.
This pickup is loud compared to others, such as the regular SD Alnico 2 Pro, allowing you to easily achieve desired output without cranking everything up to 10 in an attempt to coax out sufficient levels.
The sound it provides is very balanced all the way around, with no nasal qualities to the mid-range or shrill screeching in the higher range. Instead, you'll enjoy the nice, thick, high tones.
If you are looking for a way to get Slash's tone, installing these pups is the way to go. They also offer a very wide tone range, so you aren't locked into one style of playing.
With these, you can achieve everything from the nasty, rude tone that Slash is famous for and that can be found on every one of his recordings to a more blues-based tone, jazz or classic rock.
These will allow you to achieve great note articulation and chords with a great deal more substance and bite. As so many satisfied customers will attest, these will not disappoint.
>> Go Here To See The Seymour Duncan
---
2. Gibson 57 Classic Plus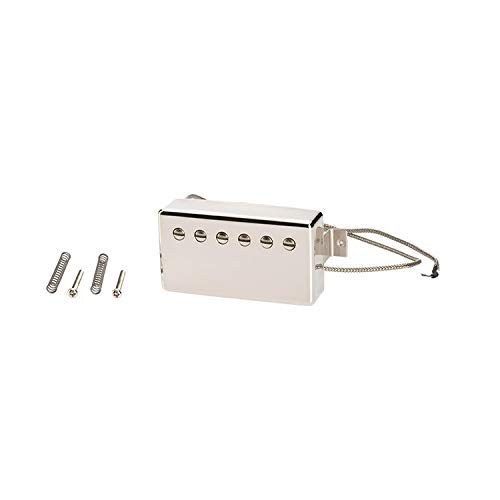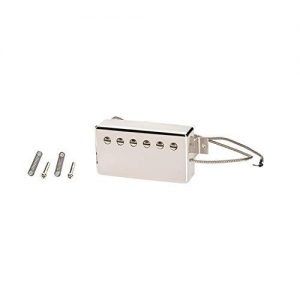 Gibson was one of the first brands to offer a humbucker in 1955, and it became the defining sound for jazz. They started off using a PAF (invented by Seth Lover) from 1956 to 1962. They then switched to a patented humbucker which was a refined version of the PAF.
The classic 57 is designed to bring back that PAF sound. It works in both the bridge and the neck positions. making it an excellent humbucker to use paired together, or to mix and match with other models.
This Alnico magnet with nickel pole pieces provides the rich, full sound that you would expect from this old school model. It uses wax potting to prevent feedback.
While most folks suggest this as a Jazz pickup, I would also argue that it is excellent for clean clear soloing. If you want to sound like Slash (can you tell that I idolize him?) and do some Guns and Roses cover songs, this pickup is what will deliver that classic rock star sound.
>> Click To See Gibson 57 Pickup
---
3. Seymour Duncan Hot Rodded Guitar Humbucker Set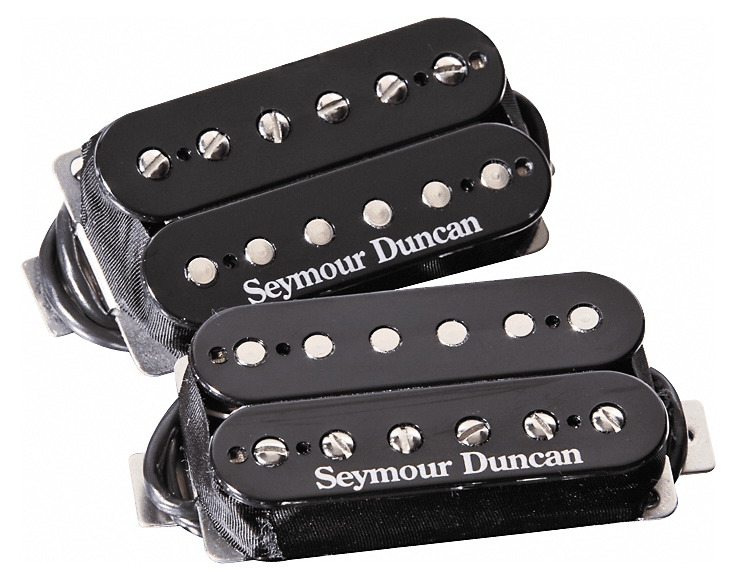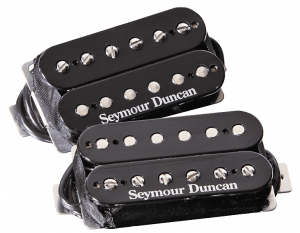 Looking for a nice fat and tight sound in an easy upgrade? Look no further than this wonderfully matched set.
Great for rock and blues but also jazz and metal guitarists, basically any style and contemporary musician could want. These are very versatile thanks to the coil split and yield excellent sound from the neck position.
These are affordably priced, easy to use and even to install yourself if you have a little experience… none of this reading wire diagrams and soldering in tight spots.
Sustain and clarity are the biggest difference that set these apart from others. The "Hot Rodded" set is a combination of two of Seymour Duncan's hottest-selling pickups: the SH-2n (Jazz) and the Sh-4 JB.
They are easily comparable to some of the most high-end options on the market such as the Jazz Humbuckers from Bartolini.
However, they are significantly more affordable, and — in comparison to the Bartolini's — much easier to get your hands on.
They provide a warm and smooth quality from the neck, and the bridge yields similar tones although it also gives a more percussive sound with lots of mids.
Considering that this is a humbucker pickup, the Jazz model in the neck gives you a very pretty and clear sound with less signal compression or midrange spike than you might be used to finding in others.
It cleans up very well using the tone, volume or a coil split. Don't expect this to be a weak neck humbucker by any means as it is surprisingly powerful in the neck position when at full volume and tone.
Also if you turn up the gain on your amp you can very effortlessly achieve exciting open-ended distortion and cleans that are heavy and yet wonderfully pristine.
Whereas the some of the Seymour Duncan series yields themselves to being ridiculously overpowered (ie. the Invader), the JB is perfect power incarnate.
At full volume tone, it will allow you to easily drive your amp into distortion range, but at the same time when you back off on the controls just a bit, you can achieve a heavy cream with a clean short decay.
When you engage the coil split you will discover a truly great, bad to the bone sound with a heavy midrange spike and the clarity and distinction make it great for riffage.
This choice is very well balanced and if the volume levels are kept equal you can easily dial in noise-free coil split combinations.
Overall, I'd recommend this setup for any level musician.
>> Click Here To Take A Closer Look At The Seymour Duncan on Amazon
---
4. Review Of Seymour Duncan SH-PG1 Pearly Gates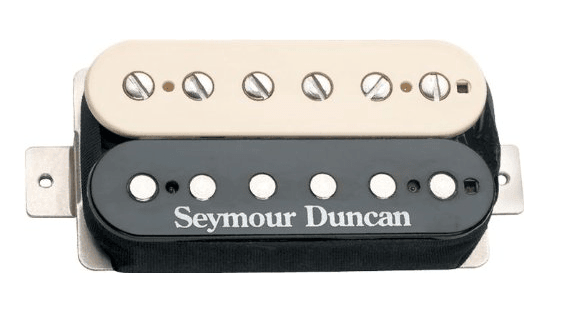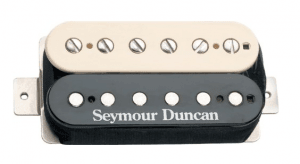 Looking for an easy upgrade for your instrument?
Turn your guitar into a tone monster with this pickup.
Versatile and dynamic, this option is the ultimate choice for genres such as blues or classic rock.
Having said that, this set does not really have the voice or gain for uber metal or other extreme gain genres.
It has a very clean sound without lacking attitude, it gives warm quality, pinch, harmonics, and sweet singing sustain but also is still great when distorted.
The Pearly Gates pickups wonderfully improve harmonics and response and resonate beautifully even while playing chords. You will get great mid-range sting and high-end bite with this upgrade. It comes well packaged with clear and easy instruction to follow.
Unfortunately, it does not include the new mounting ring (doesn't seem to be a big drawback) and it does come with enough cable to fit any style of body.
Despite the shielded wiring, it is a little on the noisy side, however, it provides the perfect lead tone and has very nice mid-range without nasal quality and is really awesomely detailed and crisp without being shrill. The balance is wonderful and the tones are warm, bright and can even be trebly if desired.
With the SH-PG1, you'll have no need for an overdrive or distortion stompbox to boost drive.
The tone quality this gives is smooth without being muddy and also has singing treble and the tone knobs allow you to blend tones fantastically. It distorts sounds very well lending itself readily to everything from Metallica to Eric Clapton.
It is slightly pricey but very well worth the investment as an improvement to your electric guitar.
Aside from price the closest thing to a downside to being found with the Pearly Gates is the transparency.
It won't even pretend to hide any lack of skill on the part of the player, though this quality also sets it apart from others that tend to allow so many little nuances to getting lost in the mix.
Another thing to keep in mind when choosing another pickup to pair it with is that this is a 'hot' vintage tone.
If unequally paired with a higher output, it will be overwhelmed and seem weak in comparison.
A great recommendation would be to pair it with something like the Seymour '59 neck pickup, which tends to be a little muddier, and the balance found between the two is very satisfying. Overall, this pickup comes very highly recommended.
>> Follow This Link To Enter The Pearly Gates (sorry. Couldn't resist)
---
5. DiMarzio DP419 Area 67 Pickup


The 1967 Monterey Pop Festival provides a clear demarcation in American music with the single-coiled Stratocasters taking over the music scene with their new sound.
By the 1970s the Dimarzio introduced the first mass-market produced replacement pickups, making it affordable for anyone to replicate the sounds of the greatest artists.
Frehley of KISS used the Dimarzio DP100 super distortion pickup did a lot to help drive it's adoption and the Dimarzio name.
These Area 67 Pickups are designed to capture that 1967 sound. You are getting stacked single-coil pickups so they have some of the hum-canceling properties that you normally only associate with a humbucking pickup. However, you still get all of that open sweetness and chime that you would expect from a single-coil pickup.
These work great in the middle and neck position when complemented with an Area 61 in the bridge position.
They are very responsive and pick up your picking and changes in playing which creates a very noticeable fullness and finesse. They are a little bright which is perfect for cutting through a thick mix. They are perfect for rock solos and vibrato work.
>> Click Here To Check Out The Dimarzio DP419
---
6. The Fender Accessories 099-2114-000 Custom '69 Stratocasters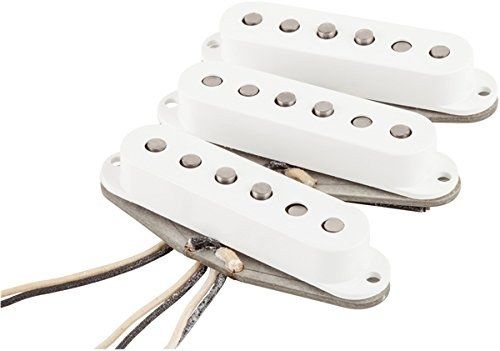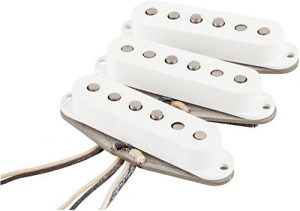 This set is perfect for anyone wanting to upgrade your instrument to Strat pickups or even upgrade their non-American strat to achieve that classic American vintage strat sound.
These produce the purest clean highs which sets them apart from so many other pickups.
Unless you use these with a distortion pedal they are not ideal for fat Texas guitar blues, but rather they give an authentic vintage tone, perfect for recreating early Pink Floyd or Jimmy Hendrix.
They produce less overdrive than most standard option and bright clear notes even with moderate overdrive.
These pups have great range, fantastic tone, and they sparkle without going shrill. Keep in mind that these are not hot pickups and therefore do not give warm tones, but rather bright, punchy, chiming and bell-like while still filling out the bass notes.
They can be warmed up some by adding a slightly darker capacitor than the ones that the Fender pots come with. Also, they do not have a reverse wound middle pickup.
This set is also easy to install. They retain a clear strat sound even when you add some sort of effects or distortion. In terms of a downside, you will find with these babies that all three are the same resistance, making the bridge piece tend to lean a little bit tinny and on the brighter side.
This can be modified with a separate tone control for that position. Another option would be to pair the neck and middle with something like a Seymour Duncan SSL-5 in the bridge. These are not ideal for heavy metals or head banging genres but are rather better suited to classic rock or blues.
If you are looking for that iconic strat style, these are definitely the way to go.
>>Click Here To Check Out The Full Set On Amazon
---
7. EMG Zakk Wylde Limited Set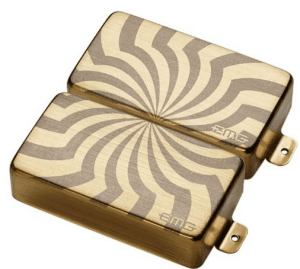 This Zakk Wylde humbucker set is the very best guitar pickups on the market (especially in the active pickups category). They are perfect for anyone wanting to achieve Zakk Wylde's signature sound.
The only downside to these is that you don't get to select between short or long volume/ tone pots depending on what you need for your specific instrument.
The pots that come with these are very long, perfect for Les Pauls or similarly styled guitars but not for other guitars like, for example, an Explorer.
If you're looking for that aggressive tone and sustain, these are perfect for you. Created in celebration of Zakk Wylde's 25 year anniversary with Metal Works and EMG these are super easy to install with solderless quick connects.
Unlike passives, they put out more sustain, mids and serve up less whiney highs. The tone is crunchy, perfect for 80's rock and heavy metal and these give much more evenly rounded highs and lows than stock models.
They do get a little compressed at low volume but the tone knobs can be turned all the way up and the distortion retains fat and rich clarity on top. These pups pack a lot of resonance.
The set comes with four pots and input jack but no new switch.
These are definitely hot, with full, heavy and powerful neck tones and the bridge is satisfying and powerful. The 81 is superb with a noise gate and has good crisp sound, delivering amazing clarity and articulation. The 85 works wonderfully in the neck for legato picking and sweep picking and gives a great slow bluesy tone.
It allows you to hear every note you pull from your guitar, even with full gain.
These are not great for string bashing as they are very responsive and will clearly articulate any little thing you do
The best results are achieved if you have a solid, steady and controlled technique. Really great for heavy metal, however they produce good country, blues and classic rock also making them perfect for anyone who likes to experiment with different genres. This is definitely an upgrade that every serious metal and hard rock player needs
>> Click Here To Check Out The Different Designs Available
---
8. EMG JH James Hetfield Humbucker Set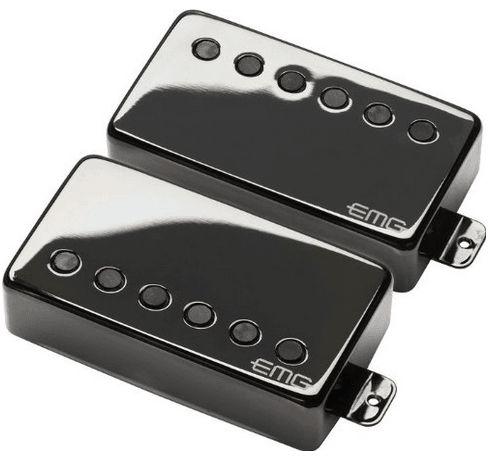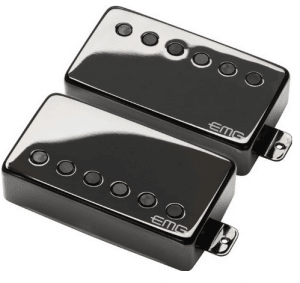 This set comes with a solder-less kit for clean install though they do not come with a long/ short option when ordering so if you own a Les Paul style guitar you will find that the stock pots are too short.
They give a great overall result but do work best with an equalizer.
Compared to the standard 81/60 setup these have much more character with the expected sharp bite but a lot more defined and less harshness.
They also have more warmth and are more sensitive to equalizer changes. Compared to other active pups these feel much more organic and real.
These really come to life due to the improved low-end response that still will not drown the higher ranges out.
Harmonically rich, every note stands out even with piled on with gain. These handle lower tunings amazingly well and respond wonderfully to equalizer changes.
Basically, you won't be stuck sounding only like Metallica here. You can dial in your own tones very well. The tone is not quite as full as passive pickups but very close for active pickups.
The bridge pickup gives a heavier yet more defined sound than the original 81 pickups. Wonderful cleans from the neck pickup, tight sound while not being overly compressed and lots more output than the original 81 all the while maintaining wonderful clarity.
The neck piece uses ceramic pole pieces which deliver more attack and higher output with a fuller low end. It's everything you would want in a humbucker. The bridge piece uses steel pole pieces for a tight, clean, low-end. It's everything you could hope for in a humbucker set.
With these, you will get a smooth tone and good range and the distortion is more saturated than what you'll get with the EMG 81.
With the volume rolled back you can achieve a nice clean chime. These deliver a punch similar in quality to high-end passive but with the punch of active pups but still give off a wonderfully clean and warm tone. This set works wonderfully for a wide range of genres, from praise and worship to more hardcore and thrash.
>>Click Here To See The EMG James Hetfield Setup
---
Passive Guitar Pickups Vs. Active Guitar Pickups
Passive – Passive pickups consist of a magnet underneath each guitar string. When the string vibrates it uses the magnet to create an electronic field, which is then translated into sound.
Active – Active pickups use a nine-volt battery to create the electric field. They also often offer a preamp.
The passives typically provide a 'pluckier" feel. This is due in large part to the extra windings, and the poles which offer limited but potent sound.
The magnets used for a passive really do affect the quality of your results.
Steel magnets tend to be used on the lower-end models.
You'll probably want an AlNiCo magnet. The AlNiCo is a blend of aluminum nickel and cobalt and delivers some of the best results. They come in several designations from I to V. Designation II and III is typically used for a softer sound, while IV and V tend to be a little "hotter", with more treble. (II is often used for a softer, more vintage, end tone)
Ceramic magnets are similar in quality to the AlNiCo but aren't quite as smooth, and tend to over more screech then the AlNiCo V's.
Because actives have fewer windings, they can have a wider response range. This can lead to more clarity of tone.
Active pickups are not necessarily "hotter" than passive. They can simply interpret a wider range of tone, and offer a preamp for more control at the guitar.
What is the best guitar pickup for playing "Country" or "Metal" or "Rock?
Because so many artists use so many different pickups across genres, it is difficult to say that one pickup is definitive "rock" or "country", etc.
The trick is to educate yourself, in use your knowledge to help decide which pickup will work best for you.
One of the key things to decide early on is how much distortion you will play with. A high-output pickup will distort much more readily than, say, a moderate output will.
Sure you can also get plenty of distortion from a moderate output, but high-output will go there much more quickly.
What is a Dual Coil… or a Single Coil…. or a Humbucker?
Like I've mentioned before, a pickup is basically a magnet, wrapped by copper wire and placed under the guitar string.
For years, we only used single coils — one magnet under each string.
However, single coils are well-known for picking up stray radio frequency interference and "humming".
The humbucker is a dual coil setup that has one set of right-hand wrapped pickups, and one set of left-hand wrapped pickups. Any radio interference that is grabbed by one of the poles is canceled out by the oppositely-wrapped pole.
Most dual coils you see today are of this humbucker variety.
Single coils tend to be brighter and better for single-string plucking, whereas humbuckers tend to have a darker and more full tone.
Different guitar pickups for different parts of the string.
Play the guitar near the neck, and it will be brighter. Play it toward the base and it be darker.
This is why you often see humbuckers being mismatched. You can put a "brighter sounding" pickup near the base and a "darker sounding" choice near the neck and balance out the tone.
Or you can put the same one in each spot for more contrast throughout.
Are Bladed Pickups Any Good?
We're seeing more bladed pickups here in 2017. Are they worth the extra money?
There are a couple of thoughts about blades. Some people feel like they are better for when you are bending strings frequently, as it pulls the strings away from the top of the pickup on a pole style.
However, with most, the magnetic field extends well beyond the actual metal head. So unless you need a very soft or moderate output with a lot of string bending, a normal pickup should work just fine.
Many musicians who typically use a lot of string bending, often naturally choose a higher high-output pickup anyhow, so any benefit from the blade is negated.