Metal is more than hot pickups. It is more than wickedly-shaped axes and distortion pedals.
It is all of those elements woven together into a machine that becomes your trusty weapon, as you do battle with the darkest emotions of the soul.
There are so many electric guitars available on the market. And yet so few that can deliver an accurate metal sound.
Metal has got to be about the most challenging genre that you can take on. You are likely going to push your equipment past the limits it was designed for. For example, you might install heavier gauged strings with a Drop D tuning that puts more tension on the neck and the bridge.
And then there are the pickups. Get the wrong pickup and you sound all weak and asinine. Go too strongly and it you are just left with a cacophony of noise that leaves you sounding less like a metal band and more like a garage full of scrap metal.
For all of its criticism from outsiders, metal is one of the most cutting-edge genres. Ballads are still alive and well and are garnering incredible amounts of play on local rock stations (I originally wrote that sentence before Disturbed covered the "Sound of Silence"). Even your most "screamo" songs use intricate melodies and complex Rhythms to add more color and beauty to the darkness of the palette.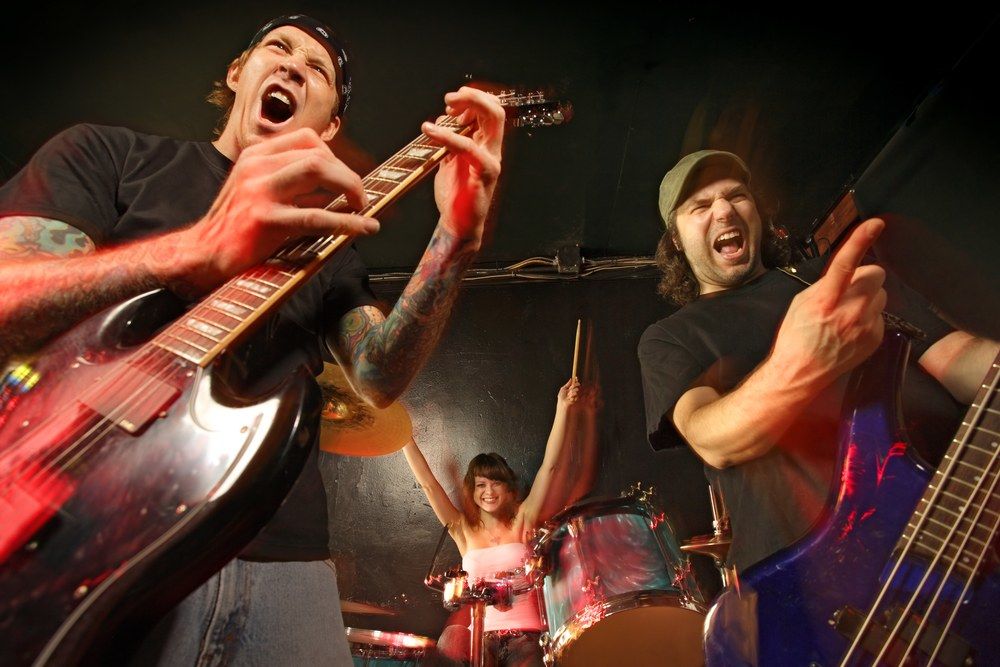 To create the emotional catharsis offered by metal is not an easy task.
For this review, I wanted to touch on some of the top machines on the market. But a lot of those are way outside most of our readership's price range.
So enjoy the drool-worthy instruments and then scoot on down and grab one of those quality brand instruments that are solidly inside your budget, but that is a proven instrument and sounds great.
Bottom line is, there's a great metal guitar available for virtually every price point.
---
1. Top Pick: Schecter Hellraiser C-1
Rolling out of the factory with dual active EMG pickups, mahogany body, and finished with gothic cross inlays on a rosewood fretboard, the Hellraiser is built to, well, raise hell. It sounds the part and looks the part. Schecter's signature subdued color schemes (a choice of a translucent black cherry, or a glossy black or white) keeps things simple, though the black cherry looks ready to take center stage itself, looking 100-percent stunning.
If you play in a drop tuning, Schecter thought of you. Locking tuners and a body-thru bridge setup mean you'll be spending less time on your tuner and more getting your shred on. Schecter's neck shape on this one is slim and flat, with big frets, making it easier for quick note and chord changes and a little wiggle room if you happen to have larger fingers. Players with smaller hands — try before you buy. Fret size can make a lot more difference than you think. And size matters with the Hellraiser. From the sheer wall of sonic crunch, it has to give, to their chunky, built-like-a-tank body style.
Players with smaller hands — try before you buy. Fret size can make a lot more difference than you think. And size matters with the Hellraiser. From the sheer wall of sonic crunch, it has to give, to their chunky, built-like-a-tank body style.
EMG's active pickups are actually powered by a battery, enabling higher output than traditional humbuckers. If your sound is all about the overdrive, distortion, and pure crunch, you'll find yourself loving these. While not as warm and prone to pure overdrive as traditional pickups, they can still maintain a pure tone at high volumes. Set your amp to 11, and you'll still have a solid sound from the pickups, where standard humbuckers tend to break up at higher volume. You will want to keep a few 9v batteries around for swapping into the power supply, as opposed to traditional electronics that run off the guitar's own wiring. Protip, however. You can extend the battery life of actives dramatically simply by removing the battery between sessions. Plugged in, the battery will still draw power, and that can leave you high and dry. Keep spares though, and you can rock as long as you like.
Set your amp to 11, and you'll still have a solid sound from the pickups. Where other humbuckers tend to break up when playing with high-gain like this. You will want to keep a few 9v batteries around for swapping into the power supply, as opposed to traditional electronics that run off the guitar's own wiring. Protip, however. You can extend the battery life of actives dramatically simply by removing the battery between sessions. Plugged in, the battery will still draw power, and that can leave you high and dry. Keep spares though, and you can rock as long as you like.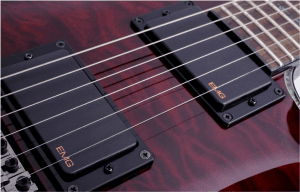 Their price puts them in competition with entry-level guitars from Gibson, and some mid-range ESPs. The new Schecters (and ESPs) are Asian-made, but since quality has gone up in recent years, it's nothing much to worry about. Though with Fender and Gibson's USA-made guitars in the same price range, the Hellraiser faces stiff competition.
Schecter's artists include some pretty impressive metalhead company, including Slayer and Exodus' Gary Holt rocking a Shechter. Alongside Danzig, Type O Negative, and Seventh Void player Kenneth Hickey, you're in good company.
Out of the box, Schecters are generally well set up. They tend toward a nice, low action, and can hold tune all day thanks to the locking tuners and body-thru bridge. If they're not, it's a simple task to learn to setup yourself (it's really not that difficult!) or take it to your local music shop.
If you're wanting an out-of-the-box trem or an extra string, you won't find that on the Hellraiser. A good guitar tech can hook you up with a nice locking trem system, however. But be prepared to tack on a couple hundred extra after your purchase.
All things considered, the Hellraiser is a solid metal axe for the money and is a killer place to start for our series on the best metal guitars out there.
>> Click Here To Raise Some Hell
---
2.

Dean ZERO Angel of Death II


Just how important was Megadeth for the evolution and propagation of metal music is up for debate. However, we know that their impact was definitely significant. Dave Mustaine, the co-founder, singer and guitarist of this awesome band has definitely shaped the lives of thousands of fans across the world. One of the more interesting things about Mustaine, aside from his singing and playing skills, was his choice of instrument. The late '80s and early '90s were all about flashy hairstyles and equally as flashy guitars.
That's why you could see Mustaine perform with an array of V style guitars, along with some double neck ones too. Dean has been producing Dave Mustaine signature guitars for a while now. Needless to say, they offer a very hard sound, in a very spectacular package. Today we're looking at Dean Zero Angel of Death II, which is one of the most intricate models that bear this legend's name and is also affordable.
Features
Angel of Death II sports what is considered to be a modified Gibson Explorer body. The main difference between the two are the much sharper edges on the Dean, along with a more aggressive contour. This also means that you will have a rather limited choice of cases, but luckily Dean offers a case that was made specifically for this shape. The body is made of mahogany and comes with an Angel of Death II graphical finish. For some, this is a deal breaker because most people like their guitars in a single color tone.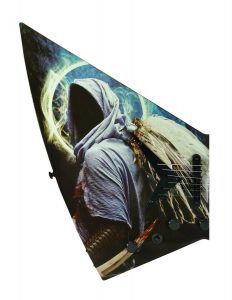 However, it's a part of what gives it its character. The neck is also mahogany and is a set piece that is made to meet Dave Mustaine specs. What this means is that the first several frets of the neck have a nicely rounded profile which becomes flatter and thinner as you progress up the neck. The idea behind this is to give the player enough 'meat' to work with when you play chords and have a very fast neck where most of the shredding occurs.
The pickups on this guitar are a set of DMT passive humbuckers, which some people will see as a flaw since this is an instrument for metal after all. However, it depends on your style. Active pickups, like those found on Schecter Hellraiser C-1, have more output power, but they are less expressive than passive pickups.
Sound
The sound you get from this model is every bit as awesome as you would expect. The string-through-body design allows it to have a great amount of natural sustain. Cleans are very crisp, which is not something you'd expect from a guitar tuned for metal, and the clarity is definitely there. Of course, this thing comes to life when you crank up the distortion and push some gain into the signal. Humbuckers both have depth and saturation across the range, although the mids and highs are a bit more accented. This creates a very balanced tone that is perfect for fast paced driving leads.
Conclusion
For what it is, Dean Zero Angel of Death II encapsulates the spirit and color of Dave Mustaine's style almost perfectly. It has the appearance, design, and most importantly, the performance of a guitar that we would dare call worthy of Dave's name. If you're looking for a great shredder that offers a bit extra, Angel of Death II is a good choice to have on your list.
>> Click Here For The Angel of Death
---
3. Dean Dimebag Razorback
The late, great Dimebag Darrell was the driving force behind both Pantera and Damageplan and was a pioneer in groove metal. Most of his career, Dime played Washburn guitars, but this one was designed by him, alongside the people at Dean Guitars.
The guitar takes the shape of his signature guitars from most of his career, and cranks it up further, making the body sharper and with his own touch on the design, you can't go wrong with Dean's Razorback.
There's no mistaking the guitar's look for anything else, and you'll make an impact with Dean's 3-way switchable DMT humbuckers. The first traditional humbuckers on the list, the "Dime Time" set is a recoiled set of '59/JB-style pickups, built for hot and heavy crunch. You won't find the cleans of other humbuckers, but the extra output and dirty sound are made to be cranked up loud.
A bonus of this mid-range offering from Dean is the basswood body. While it loses a little solid feel, it makes up for in reduced weight. You're not going to feel like you're rocking with a sack of bricks on your shoulder. Like KISS said – rock and roll all night. Dime did (and was a big fan of Ace Frehley's guitar playing, incidentally).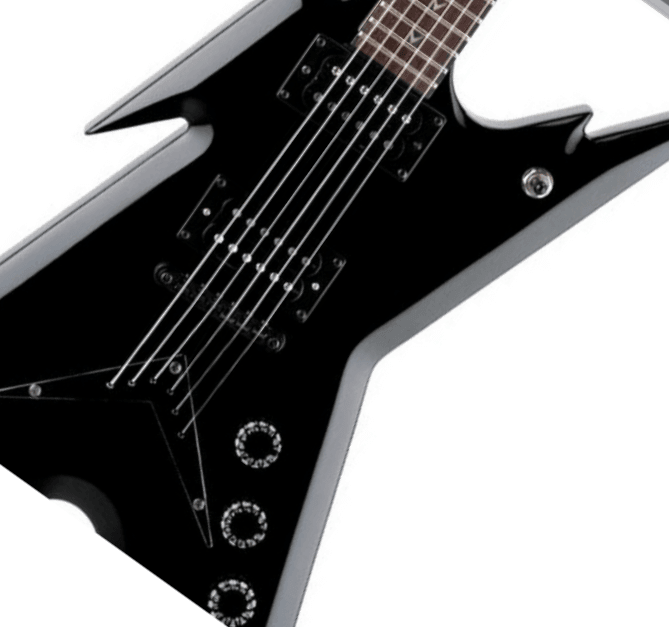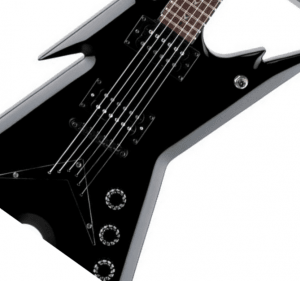 Speaking of the body, the guitar features a bolt-on neck instead of a Les Paul-style set neck. Why is this a big deal? If something happens to the neck, if you throw it into the crowd and the neck breaks, it's easier to fix a bolt-on neck, as they can be removed, replaced, and don't need to be reset and glued.
Just kidding though. Please don't throw your guitar into the crowd. That's why we can't have nice things.
Dime's other signature touch to the Razorback comes in the control knobs. A small touch, but something that's vital when you're playing fast, loud, and need to make changes. Your sweaty palms won't be a problem. The DBD Traction Knobs are built to be grippable, no matter how bad your stage fright might get.
The guitar also features the Floyd Rose Special term system, widely used by anyone needing to make their sound wobblier, and Grover tuners that can hold up to whatever tuning you throw at it. Not a bad legacy for Dime. Dean did him proud.
>> Click Here For The Dean Dimebag Razorback Lineup
---
4. The ESP Black Metal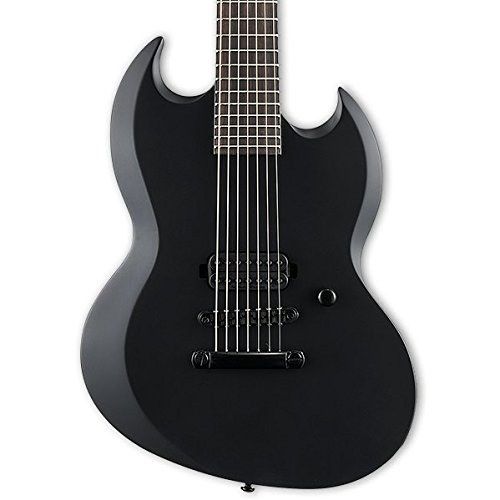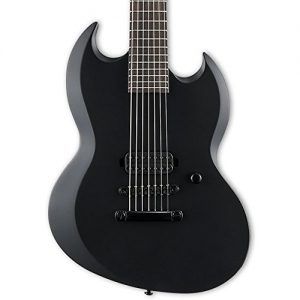 ESP is so well known in the heavy metal circles that some folks wonder if that is all the make guitars for. They used to make guitars for James Hetfield of Metallica.
This weapon is one of the most blacked-out guitars you'll find. The only non-black parts on it are the strings.
You have a few different body shapes to choose from. They do offer the flying V shape, but also offer some of the more standard designs as well, depending on the model you buy. You are looking at an alder body and a 3 piece maple neck.
Despite all the gushing all of us gear nuts do about high-end guitars, the truth is that your choice doesn't have to drain your bank accounts or run up more debt than your student loans to sound good, or really — rock your socks off.
This series is designed to match the build quality of their LTD Deluxe 1000 series instruments.
They went over-board on design for this guitar, and I love it. The ebony fingerboard with no inlays sets this one apart (it does have glow in the dark side markers) with a different look that folks will notice even when you are on stage.
And then the black winter Seymour Duncan passive pickups really bring that look home. They are designed for playing metal, but also sound great playing hard rock and are perfect for grunge.
It is available in both a fixed bridge and a tremolo bridge model.
>> Click To See The ESP LTD Black Metal Lineup
---
Finally, we come to something no metal guitarist worth their salt hasn't seen…
5. …the B.C. Rich Warlock.

B.C Rich has been kicking out the Warlock style non-stop since 1980, and for good reason. It's a solid, entry level axe for players that like their guitars screaming and drums ringing in their ears all weekend.
A dual-humbucker setup featuring BCR's in-house designed BDSM pickups is coupled with a hard tail bridge and shoved into its distinct shape that's made it almost 30 years.
The BDSM (Broad Dynamic, Sonically Matched) pickups are designed to provide high output while keeping your sound fairly clear. This is a good choice for players who don't run a guitar to amp setup and would rather let pedals color their tone. Guitarists from Slipknot, Slayer, and even KISS have used the Warlock style guitars, keeping you front and center, and in good company.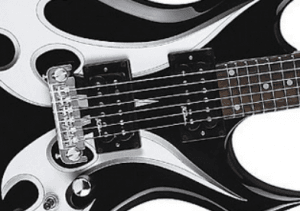 This and the Razorback offer the most choices in the finish, with several designs to choose from. Be warned though – with both options, you may be ponying up some extra cash for your guitar's flash.
The entry-level Warlock looks good in black and keeps things rocking just fine if you're more into playing than ogling.
All told, the Warlock is a classic for a reason. It's affordable and packs a solid punch. For the price, you can't really go wrong with it. Much like the other entry-level guitars on the list, you won't be getting locking tuners or a tremolo. This isn't necessarily a bad thing, though. The Warlock's rock pedigree's had years of practice holding a tune, and the hardtail bridge boosts your sustain longer than the whammy bar bridge will.
The Warlock also has a reputation for being well set up and ready to rock straight out of the box. With its classic metal look and feel, heavy sound, and low entry fee, beginners shouldn't be the only ones picking up one of these beauties.
>> Click Here To See The Current Price On The B.C. Rich Warlock
---
6. The Ibanez RGD series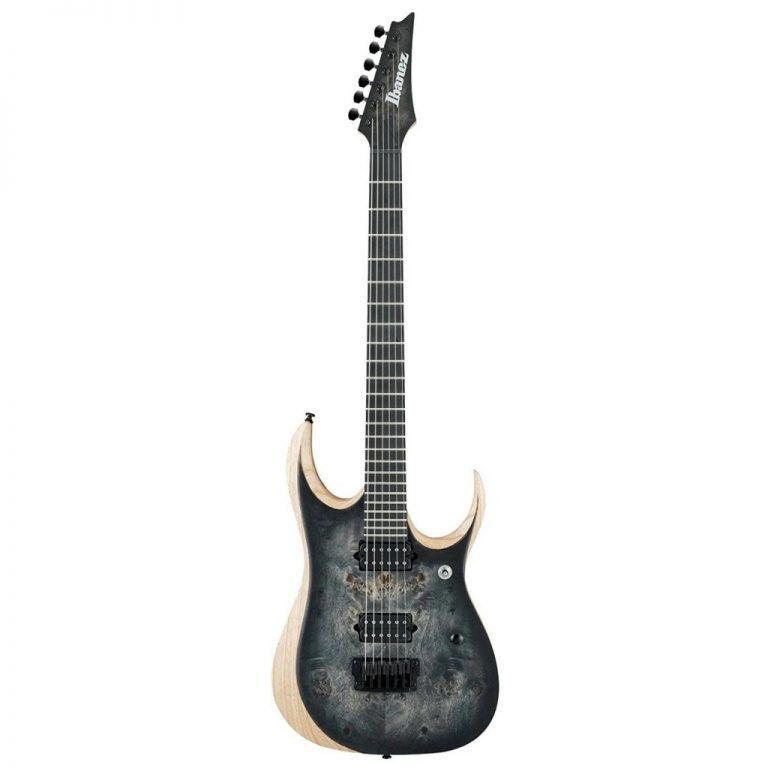 Ibanez makes this list frequently. However, they often discontinue models and introduce something new. from a marketing angle, I can understand why they do that: new designs means that people will buy from you more often.
However, it makes it harder to find those tried-and-true models that have a rabid fan following.
I used to have the Ibanez RG550 in this spot, and then the Iron Label Series. The Iron Label series have now become the RGD series (or vice-versa?).
However, Ibanez has, since the late 2000's been running the RGD line. They've made some major changes including complete model discontinuations and revamps.
One of the major reasons for that revamp was that they originally released the RGD series with a tremolo bridge. Anyone who plays heavy metal knows that you need a fixed bridge. All of the new RGD series comes with a fixed bridge.
However, the core of this guitar stays the same. You are getting a 26.5 inch maple neck. At just an inch longer, it is perfect for drop tuning, while keeping your fingering fast for those blazing solos. The deep cutouts are the other major feature, and they let you have full access to the fretboard.
I know you'll want to geek out on the pickups and get the right one. With 4 different configurations, you will likely want to dig in deeper on these to get the best guitar for your style of playing.
Personally, I really like the RGD61ALMS. It is part of the Axion series and comes with the Fishman® Fluence Modern active ceramic Humbucker pickups. Each pickup comes with two different metal tones that you can switch between.
The first setting is identical to a high-output active pickup that is perfect for soloing and technical riffs. The second setting is more of a passive pickup with lower output. This gives you those low end tones, high end tones and good punchiness for riffing.
But they also have some versions with the Dimarzio Fusion Edge pickup.
With their longer scales, the Ibanez RGD series is a good choice for those want to do drop-tuning.
>> Click to See The Ibanez RGD Lineup On Amazon
---
7. Jackson JS32 Rhoads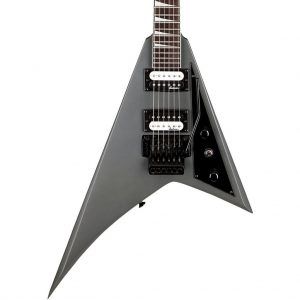 Randy Rhoads — lead guitarist for Ozzy Osborne — died in1982 , but his legacy on neoclassical metal lives on. When it comes to solid playing and intricate riffs, Rhoads was at the forefront of that sound.
This guitar carries that groundbreaking spirit foreward while still respecting your budget. Jackson has a few of these JS32 models. They have a basswood body and 25.5″ scale lengths, so a fairly standard guitar.
The compound radius fretboard is very unique. It starts off flatter than a strat with a 12″ radius near the top of the neck, and shifts to flatter 16 inch radius as you approach the body for easier shredding and fingering.
It comes with Jackson high-output pickups. These deliver an excellent, syrupy tone that sounds great in the lead guitar role.
The v-shape is super comfortable for playing when sitting down. Not that any of us would own up to doing that, but they rest nicely on the leg for all-day practice sessions and studio work.
This guitar sounds like a lot more instrument than most of the competition. Plus, they look badass.
>> Click To See The Different JS32 Rhoads Variations On Amazon
---
8. Epiphone Special 2
I'm going to squeeze the Epiphone in here. They are made by Gibson and are one of the most respected manufacturers. I often mention the Les Paul, here, but when they are out of stock, I'll grab another version that works equally well and is near the same price point.
The basswood body with mahogany neck sounds great when paired with the high-output 650R and 700T humbuckers. You only have a two-way pickup switch, but I honestly don't feel that most of us use that third option, much, anyhow.
This guitar can do it all. You can do some rock, some new wave, some grunge and then go full metal. It's a lot of guitar and offers reliable sound.
I know the design and the price are going to have you suspicious, but it is the best metal guitar for beginner guitarist who needs to work inside their budget.
>> Click To See The Special II
Dimebag Dean Darrell Puts His Machine Through The Paces